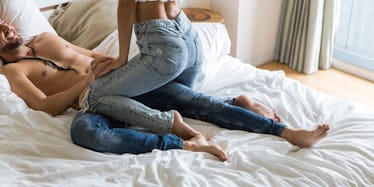 This Is The Age You're Most Likely To Have Your Best Orgasm, According To Science
Though it's fair to have assume you'll have the best sex of your life while you're young, wild, and free in your 20s, new research is proving that good things come to those who wait.
According to a brand-new study from certified contraceptive app, Natural Cycles, women report achieving more mind-blowingly stellar sex once they've hit age 36.
The only way to go is up once you've made it to your mid-30s.
2,600 different women took part in a sex-themed survey that covered topics like orgasms, how attractive they feel in their daily lives, and how much they enjoy having sex.
The group was broken down into three subsections by age: 23 and younger, ages 23 to 35, and 36 and older.
The older women came out on top when it came to climaxing, with six out of 10 women reporting much more consistent orgasms during intercourse.
A whopping 86 percent of women from the older group also claimed to have had "great sex" within the recent weeks, in comparison to 76 percent of women from the middle group and only 56 percent of women from the youngest group.
With age also comes confidence in this case, as the eldest group of women polled once again gave the most positive results from the survey.
When it came to their appearance, eight out of 10 women (80 percent) in the older group considered themselves "sexy," with only 40 percent women in the middle group feeling as self-assured. And just seven out of 10 women under 23 said the same.
The one survey result that tied all of the women together? Longer sex. One in three women from each of the groups admitted to wanting their time spent in bed not to be so abrupt... so take note, gentlemen.
If you stand assured and assertive (whether in or out of the bedroom, of course), that may increase your chance of having the best orgasms much earlier in life.
Though the research from Natural Cycles points to your 30s for being a great time for getting off, the biggest takeaway here should be to SPEAK UP. Be vocal, ask for what you want, and be confident at any age.
You should never have to wait until the ripe age of 36 to have an awesome O.
Citations: Study says women experience best orgasm at 36 (AOL), Survey pinpoints the age at which women hit their sexual peak (NYT Live), What Age Women Have The Best Sex Of Their Lives At Revealed (The Independent)