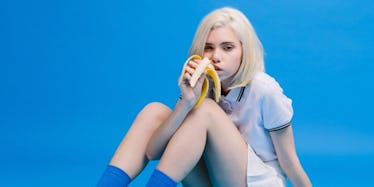 5 Techniques To Give The Perfect Blowjob That I'll Definitely Never Try
Javier Diez
Raise your hand if you will only give a blowjob if you're in the throes of sexual attraction at the very beginning of a relationship, or when you're in a relationship that's on the brink of extinction and you need to make an apology.
I grew up reading Cosmo tips on "How To Blow His Mind -- And His Dick -- At The Same Time!" with the best of them, and picked up some really helpful techniques along the way. Techniques that made me stop and think to myself, "Absolutely never."
Trigger warning for straight dudes: This article might start a riot if you read the whole thing, so maybe just watch this video instead?
Multitask for maximum pleasure
A common suggestion is like, "Don't just work the shaft, suck the balls, rub his perineum (the area between his balls and his asshole) gently, and rub your hands all over his body too, on his butt, nipples, his calves, behind his knees."
...First of all, how many arms do these people think I f*cking have? I am not a spider. It is not humanly possible to do this much at the same time.
Secondly, how long do they think the two arms I have are? If I'm all the way down in Dicktown, how am I supposed to reach his nipples? Honestly the idea of doing this is so stressful it makes me grind my teeth, and nobody's gonna enjoy that.
Use your hands
Another suggestion you'll read is, "Don't just use your mouth, use your hands too, and really get in there with both of them. Jerk him off as you're blowing him, and he'll be absolutely obsessed with you."
How bout I just use both my hands to get myself off and we can skip this whole charade?
Sure, I'll use both my hands and my mouth, and then to hold myself up, I do what? Use the super-human strength of my neck to pump the entire weight of my upper body up and down his dick like a f*cking cobra?
Oh and for sure, I'm not getting paid for this or getting any sexual pleasure out of it myself, but the magazines all say he'll be obsessed with me!
Obsessed, as in coming back for more? No thanks. This is the human sexual equivalent to feeding a stray dog.
Compliment him
I have actually fielded numerous suggestions that while you're giving a blowjob and while his cock is taking up all the room in your mouth, it helps for him to hear words of encouragement.
Y'know, because eating his dick isn't encouragement enough. It's not enough to just look down and see you there.
He needs to also hear you completely humiliate yourself to feel absolutely sure about what you're doing, like when the cops force an obviously drunk person to recite the alphabet. It's not necessary.
As long as guacamole costs extra, I will charge $1 dollar for every compliment given to a man during oral sex.
Does that make sense? No, but neither does me sucking someone off when they could bang me instead.
Make eye contact
Since a lot of guys are visual creatures, one thing they're always willing to ask for during oral sex is eye contact. This enhances their arousal, increases their pleasure, and makes you look like a wide-mouthed bass staring through a keyhole.
I have been caught picking my nose in public and felt cuter than when I've made eye contact during oral sex.
NO, bro. YOU look at ME. LOOK AT WHAT I'M DOING.
Ask me for one more favor and I will TURN THIS CAR AROUND.
Play with his foreskin
Redbook writes,
If your man has a foreskin, use it to your advantage... as he gets more erect, use your tongue to gently push the foreskin back with your tongue and lips.
Are you fucking kidding me, Redbook? Whose side are you on, here? Most of the men I've dated don't know how to thoroughly clean a dinner plate!
Am I supposed to just blindly place my trust his ability to clean out the intricate folds of his hoodie before I dig into it with my tongue? I'd rather lick the entire length of a subway platform.
Absolutely not.
Ultimately, if you enjoy going down on your man from time to time, you are an angel and you deserve a medal.
I choose to channel my generosity in more convenient ways, for instance, by simply allowing a man into my body in the first place.
And frankly, that should be enough.
We're objectively nicer to look at than men, and they're so sweaty and disorganized (with their dirty sinks and the way they throw pocket change all over the floors and never change their sheets), they're lucky we even want to touch them.