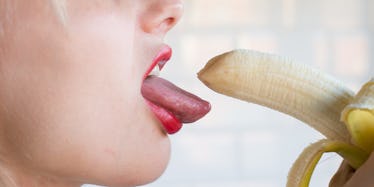 17 Tips On How To Give The Most Satisfying Blowjob, As Told By A Sex Coach
Shutterstock
Every man loves a blowjob, whether it's foreplay or the main event. If you've never given your man a blowjob, the first time can be awkward. Or, if you have given him blowjobs before, but want to learn something new, you've come to the right page.
The great news is you can learn skills and blowjob tips to make your technique great, and these oral sex tips will blow his mind as well. The goal with oral sex is to make the experience as pleasurable for him as possible. Then, he'll likely be eager to return the favor.
Enthusiasm Is Important
1. You initiate: This is perhaps the most important and easiest blowjob tip to have in your "oral sex toolbox."
Your attitude when you initiate a blowjob should be that you love to do this and you enjoy giving him one. If you love to do it and you show enthusiasm for it, your man will be super excited. You know that feeling you get when your man is enthusiastically ripping your clothes off? It's the same feeling you can give him.
Don't be shy. Tell him how much you'd love to give him a blowjob and let him see you sucking his dick. Whatever you do, you just don't want to come off like you feel you have to give him a blowjob and that it's an actual job. Enthusiasm is such a simple blowjob technique, yet it's so powerful.
2. Surprise him with a blowjob: The ultimate surprise when giving your man oral sex is to start when he's still asleep. This blowjob tip starts by lightly rubbing his thighs, and then by taking his dick in your hand. You can then start giving him head. The reason you don't want to just go for giving him head right away without first touching him is that he might accidentally be surprised and kick you (ouch). Or, you can surprise him by giving him a blowjob right when he comes home from work. This is one surprise he won't forget.
3. Make appreciative sounds: Guys love it when you're making appreciative sounds. This lets them know that the blowjob is not something mechanical or something that you feel as if you have to do. Throw in a little "mmm" or moan a little. Even though you might think this sounds fake, if you're into what you're doing, it won't. Go ahead and try it.
4. Show excitement: One of the easiest things you can do when learning how to give a good blow job is to show your excitement. Try looking at him while you're giving him the blowjob. Stop what you're doing once or twice and tell him how much you love it. Maybe you're so excited that you have to masturbate while giving him a blowjob. Guys are visual after all, so putting on a show can be super hot for him.
It's Not Just About Mimicking Sex
5. This is part of the appeal: Fellatio feels similar, but not identical to intercourse. Some guys prefer oral sex to intercourse (at least some of the time), especially if you show enthusiasm and really love what you're doing. The thrill is that you're in control of his orgasm. He can't control it, and he just has to let it happen to him. It's totally unpredictable, and that can add to his excitement and pleasure.
6. Use your hand: This blowjob technique helps you if you're concerned that you can't take all of his dick in your mouth. If your man has a larger penis, using your hand will enhance the experience for him. Blow jobs are not done only using your mouth. You also don't ever have to deep throat his penis, especially if you know you can't do that. But if you want to, you can.
7. Focus on the head: As explained here, a super sensitive part of a man's penis is the head. Take the head into your mouth, and your hands can provide the stimulation to the rest of his penis.
Four Fantastic Blow Job Techniques
8. Focus on the frenulum: The frenulum, the ridge that runs along the underside of the penis, is super sensitive. In fact, it's the most sensitive part of the penis. It has thousands of nerve endings, so focus on giving him some oral stimulation there.
9. Seal your lips around his shaft: Another good place is just underneath the frenulum. When you do focus on it, suck and mimic the thrusting motion he uses during intercourse. Use your hand as well, and move your hand and your mouth together as one rhythmic motion.
10. Don't forget testicles: One of the most surprising blowjob tips for women is that most guys like their balls touched when getting head. But, many women ignore them. Go ahead and cup them. It feels good to guys. It is especially nice for man when you lightly tug on his balls just before he's about to climax.
11. Trace the outline of his balls through his scrotum: The scrotum is another place to focus. This is the tissue that surrounds the balls. The balls can handle more pressure when you go through the scrotum. A super satisfying blowjob technique is to put his scrotum in your mouth. When you do, don't move at first. Give him time to relax, since this is a very delicate area.
Get Feedback
12. Many guys are quiet: If your man is quiet, it can be difficult to know whether he's enjoying himself. You can usually tell, though. If he likes what you're doing to him, he'll probably moan or groan. He might also start bucking. If he's doing all that, continue doing what you're doing. This is not the time to switch to a different technique.
13. Pay attention to his breathing: Another way to tell if your man is aroused by what you're doing is to pay attention to how he's breathing. As his arousal increases, his breathing will begin to get deeper. When he's about to cum, he might start to hold his breath.
14. Notice if he's tense: When his body becomes tense, it's a sign that he's about to climax. This sign is a little tricky to notice as you first start learning how to give a great blowjob. He might hold his breath, or he might tense up because what you're doing hurts. If you can't tell whether he's tensing from pleasure or pain, ask him.
Considerations
15. Be careful with teeth: A very common mistake with blowjobs is to bite. So, here's a super important blowjob tip: Avoid using your teeth by wrapping your lips around them.
16. Some guys like a little teeth: The more aroused a person is, the more he or she can tolerate some pain. Try adding teeth at this point, but do so carefully. You want to be gentle here, so don't bite. Instead, gently glide your teeth, and then use your tongue right after.
17. Some guys don't orgasm from oral sex: One reason is that they're used to firmer stimulation from intercourse or from masturbation. Or, they might be concerned that you don't like what you're doing if it's a new relationship. Or, they worry some other concern that prevents them from fully relaxing.
Another reason could be you are not doing the special things he likes. Let him guide you to the techniques that he likes. If that doesn't work, then there's nothing wrong with using a blowjob as a prelude to intercourse.
It's OK if you're not perfect at giving your man a blowjob. You'll get better the more you do it. In the meantime, enthusiasm goes a long way, as we mentioned in our blowjob tips. Simply being willing to try is key. You can learn more powerful blowjob tips and techniques here.