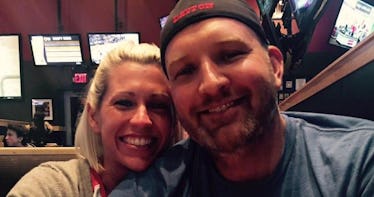 Students Go Crazy When Science Teacher Proposes To Math Teacher In Front Of Class
Facebook
How was your Valentine's Day? Did you spend the night watching rom-coms and wallowing in your singleness? Did you go to a cute dinner with your BF?
Well, whatever you did, I guarantee it FAILS in comparison to what this class of students in Ohio saw, as they got to watch their science teacher PROPOSE to their math teacher!
Watch the sparks fly for yourself below:
Basically, rumors had been swirling around the playground at Harry Russell Elementary School in West Carrollton, Ohio, regarding the relationship between science teacher, Jason Seifert, 39, and math teacher, Allyson Barker, 28.
Don't you remember how excited you'd get when you were in elementary school, and you noticed some good, old-fashioned sexual tensh between your two favorite teachers?!
Well, this is just like that, but WAY better.
I mean, just look at these two "co-workers" getting cozy outside of school hours:
Mr. Seifert decided to do his students the honor of proposing to their beloved Miss Barker right in front of them.
He stood up in front of the entire class and addressed the rumors that he and Miss Barker had been dating. And just at that, the kids absolutely lost their minds.
Then, he did that "silent coyote" thing all your camp counselors used to do back in the day to chill the kids out a bit, where you put two fingers up in the air to make everyone be quiet.
He explained that the rumors were true. (Cue the kids losing their minds a second time.) He said he and Miss Barker were, in fact dating, and — wait for it — HE'S IN LOVE WITH HER. At this point, the kids didn't even know what to do with themselves, and the room was exploding.
But then, things got even better. Mr. Seifert got down on one knee and PROPOSED TO MISS BARKER RIGHT THERE IN FRONT OF THE WHOLE CLASS.
And fortunately for Mr. Seifert (and the whole class), MISS BARKER SAID YES.
The best part? He flew her PARENTS in to watch the whole thing from the hallway!
AAAND, of course, their love and engagement are FB official!
I honestly don't know how the kids are handling themselves right now because I don't even know these people and live in another state, and I'm losing it over here.
But anyway, it looks like Miss Barker is going to be Mrs. Seifert very soon.
Citations: Classy wedding proposal goes viral (Fox)