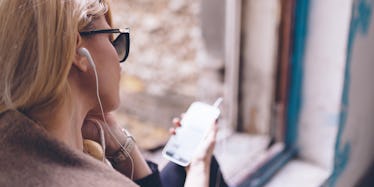 22 People On The Song That Reminds Them Of Their Most Significant Ex
Milos Ljubicic
Music is easily one of the more powerful reminders of our past. Specifically, our romantic past.
Songs can transport us back to an entire time period — a stretch of a week, a few months, a few years  — or a single fleeting moment in a relationship.
They can make us feel wistful. Nostalgic. Hollow. Pathetic. Destroyed. And the feeling can be absolutely suffocating. There have been moments in my life where I was so heartbroken that all it took was hearing the chorus of one song to throw off my entire day.
Yet one of the most cathartic things I've done after a breakup is listen to a bunch of songs that remind me of my ex and just... weep, sometimes even in public.
Once, during the dead of a winter snowstorm, I threw my headphones in and decided it would be great to engage in my favorite post-breakup activity while walking outside in the freezing cold. (I hate the cold, so really this move was to amplify my self-pity.) That day, my ears were ambushed by both my song selection and stinging, biting gusts of wind. But I felt better!
Whether you avoid your song like the plague, actively listen to it when you want to mourn, or passively notice it when it comes on your Spotify, everyone has a song that reminds them of their most significant ex — the one who broke their heart the hardest.
Here, 22 people reveal that song, plus a little bit about why it makes them think of their ex.
"Cats In The Cradle" by Harry Chapin
My ex was a girl called Catherine, 'Cat' for short. My favorite song before I met her, which I spent forever learning how to play on guitar (and I mean forever) was 'Cat's In The Cradle' by Harry Chapin. It reminded me of the relationship I shared with my father and how he worked so hard to put food on our table, but sacrificed spending time with his family in order to do so, so it was a nice to thing to hear it being played somewhere occasionally and randomly. It reminds me of her because every good memory I had of her, we would play that as 'our song.' Before that, it was my favorite, so it seemed befitting to continue it. But now, when I hear it, it just makes me sick because ultimately she cheated on me. And as good as those memories were and as much effort I put into our relationship (and learning how to play it on guitar), something that would once give me so much pleasure has been destroyed, leaving now a bad taste in my mouth if I hear it out or anything.
— Damien, 31
"Hard Wired" by Shakey Graves and "Wouldn't It Be Nice" by The Beach Boys
I have two that stick out. 'Hardwired' by Shakey Graves, because we used to listen to it in his room in the mornings. Any time it comes on, I go right back to that time, even now that it's been a few years. There's also 'Wouldn't It Be Nice' by The Beach Boys, which he put on in the car because he was tired of my playlist one day when I was driving him back to the train station. Turns out, that was the last time I ever drove him to the train; we broke up for good a few weeks later.
— Erin, 24
"Show Me Love" by Sam Feldt and "Shivers" by SG Lewis
My ex was the one who showed these songs to me and told me they made him think of me. We spent a day in Amsterdam just in bed listening to a bunch of our songs on repeat.
— Sarah, 25
"Walking On The Moon" by Cas Haley
[This song] always takes me back to when things were easier, walking around summer nights with my ex. Kind of fast forwards me to when we had our kids together ('hope my legs don't break'), and now that we are separated, [it] just brings it all to focus, you know? Really tough.
— Jesse, 24
"By Your Side" by Tenth Avenue North
I think about my most recent ex. We dated for two years. He was the one person who I could say 'saved me' in a way. Before him, I had an emotionally abusive boyfriend whom I felt too scared to escape. I knew the only way that would separate us was if I hit rock bottom, or if something bigger than us split us up. Something such as getting another girl pregnant. With all the heartbreak, I went in for rebound dating, and that's where I found Alex [my ex]. I was dating his friend at the time. Someone cool, but something to take away the pain. After he and I parted ways, Alex did everything he could to get me for months. It was the chase and the patience he had for me that won me over. I had been so emotionally broken over my past breakup that something so good, I thought, was too good to be true. I told myself if it was meant to be, there would be a sign. Not only was there a moment of that, but also when I was in the car one day — still being stupid and still seeing my ex, doing all the things I shouldn't have — a song I once heard that I downloaded played: 'By Your Side' by Tenth Avenue North. The song seemed to be about religion and praise, but the words literally spoke to me. He had done so much to prove himself ('trying to earn grace'), I was always crying ('let me lift up your face, so don't turn away'). All the words were every single thing I was going through. I was trying to live a life I didn't want, I was trying to ignore what was right in front of me, and that was Alex. I cried as it played on that car ride, and a couple of significant moments and that one song began my two-year relationship. Whenever I listen to it, it signifies a time in my life where I was brave enough to leave all the pain behind and jump. And for the first time, finally, someone was there to catch me. Even though it obviously didn't last, there are songs throughout the relationship that signify certain times and almost become reminders of certain events. Whenever I hear 'By Your Side,' even after all this time, I smile because it reminded me of a time of courageousness. It reminded me for the first time that it was OK to be brave for someone with anxiety like me. The future was always scary, but with him, it wasn't, and I am forever grateful.
— Annemarie, 24
"Because Of You" by Kelly Clarkson
Kelly Clarkson's 'Because Of You.' I was abused physically, verbally, emotionally. I still have the scars, so I'm forever reminded of what happened.
— Rob, 24
"Magic" by Colbie Caillat
The song 'Magic' by Colbie Caillat. It came up on shuffle on my iTunes when we first started dating. At the time, he was giving me a back/shoulder massage. I played it all the time when I was with him, but of course, now, it just brings me sadness. If it ever comes up on the radio (sparingly, thank God), I have to change the station.
— Anonymous, 21
"Swing Life Away" by Rise Against and "Don't Matter" by Akon
I can't even listen to some of the songs from my and Mike's breakup. I could probably list off at least 10 songs that I switch off of the radio as soon as I hear them, but the most significant ones would probably be 'Don't Matter' or 'Swing Life Away.' If I ever hear those, they don't get past the first few notes. We did date for over seven years, and I feel as though these songs are more painful than the memories themselves because the songs remind me of the good times only. It's as if you hear the words someone wanted to say to you at one point, and now, they would never say it to you that way again, and I think those sentiments are harder than looking back on your own memories.
— Brianna, 24
"Break Your Heart" by Taio Cruz
'Break Your Heart' by Taio Cruz was her ringback tone when we first started dating. Turns out, it was her theme song.
— Jacob, 24
"Do I Wanna Know?" by Arctic Monkeys
'Do I Wanna Know?' by The Arctic Monkeys. Not a guy who broke my heart per se, but somebody who constantly made me second guess myself and feel stupid. But because it's a banger of a song, I've made sure to associate good memories with it, so they couldn't take that from me.
— Maggie, 24
"Alive With The Glory Of Love" by Say Anything and "Genghis Khan" by Miike Snow
I have an entire playlist I can't really listen to, since it was the one we used at work, and we were co-workers. But the pinnacle ones are 'Alive With The Glory Of Love' by Say Anything, 'Genghis Khan' by Miike Snow, or anything by Justin Motherf*cking Bieber.
— Laura, 23
"From This Moment On" by Shania Twain
'From This Moment On,' by Shania Twain. I was engaged. We lived together, had a venue, had a date set, I picked a dress  — the whole nine yards. We recorded a cover of that song ourselves to use as our first dance. Well, I came home from work one day to him banging another chick in our bed. Needless to say, I can never listen to that song again.
— Nicole, 23
"Make Me Fade" by Vanic x K.Flay and "Drown" by Bring Me The Horizon
'Make Me Fade' by Vanic x K. Flay. We blasted that for an entire summer. And 'Drown' by Bring Me The Horizon to get me through the horrible aftermath.
— Brian, 24
"Bluebird" and "Gravity" by Sara Bareilles
It's funny because 'Bluebird' is from the perspective of the person getting broken up with, but it most reminds me of the one breakup I've ever initiated. I was dating my college boyfriend, and we continued long-distance post-grad. I used him as a crutch a lot; I wasn't making new friends because I'd want to be home to talk to him on the phone, etc. After a few months, I was sexually assaulted and abruptly broke it off with him. I couldn't face telling him, or anyone at the time, what happened. I knew he was still fully invested in the relationship, and I think that was what made it the hardest: [The breakup] was a shock to him, and he had no idea of the catalyst behind it. He thought he had done something wrong when, at the time, I was blaming myself for 'cheating.' To me, the song speaks to both parties: the difficulty in being broken up with (particularly when you're not expecting it), but also how awful it is to willingly go from being in a relationship that you were dependent on to facing the world on your own, particularly living in a new place with such an awful experience to cope with. 'Gravity' by Sara Bareilles [reminds me of] my first, third, and fourth breakups. I dated him in high school on and off. He always made me so mad when I'd think about him in theory, but when he messaged me freshman year of college, it's like I forgot how awful our breakups had been. It's like I'd been in a limbo since our last breakup ('hold me without touch'). We dated again that following summer until our final breakup. 'Something always brings me back to you. It never takes too long.'
— Sarah, 23
"You" by Chris Young and "Die A Happy Man" by Thomas Rhett
My ex showed me ['You'] and said he really liked it. The first time he played it, we were taking a shower together at his apartment back when things were all great and I was naive to his stupidity and lies. And any time I hear it, I just think of that moment. The part [in 'Die A Happy Man'] starting with 'baby that red dress' is my favorite part of the song, and me and my ex always used to listen to it. He told me he memorized that part so he could sing it to me because he knew it was my favorite.
— Anonymous, 23
"Home" by Edward Sharpe & The Magnetic Zeros
'Home,' by Edward Sharpe & The Magnetic Zeroes. My ex and I got together for the first time right before I left the country for six months, and that song always made me think of him when I was there. It's just so sweet and beautiful, and the whole 'home is wherever I'm with you' idea really resonated with me in that situation. Now, even though it's been a long time, I burst into tears every time I hear the spoken part of the song. Just gets me right in the feels.
— Gillian, 25
"Harvest Moon" by Neil Young
'Harvest Moon' by Neil Young. Mostly because I'm a nostalgia-soaked manchild who has collected a scarce few emotional barnacles, and this one is biggest.
— Matt, 25
"Here (In Your Arms)" by Hellogoodbye
My high school boyfriend introduced me to the band Hellogoodbye, and I absolutely love their music and occasionally try to listen to them again, but even after seven years, it still just reminds me of that shitty relationship, and I get sad/mad and have to turn it off.
— Emily, 23
"Better" and "The Blues" by Guns N' Roses
'Better' and 'The Blues' by Guns N' Roses. 'Insignificant,' 'I'll Sneak Away,' and 'Fairy Tales' by Sarah Tollerson. These five are each sonic booms of emotion and form the soundtrack to an epic journey for me that very few people on the planet know of and even fewer fully understand. I might write a book one day. The music not only helped me understand it myself as it was happening and express complexities like nothing else could, but it was also vital to my processing of it all.
— Len, 41
"Burn" by Usher
All of Usher's Confessions album... specifically, the song 'Burn.' I may or may not have had my heart shattered at the same time as this album came out. Lyrically, the songs on this album just resonated with me and my emotions at the time.
— Mike, 32
"New Rules" by Dua Lipa
My first date with my ex, all we did was dance to Dua Lipa, and then, we eventually saw her live together. And then, her album came out during our roughest patch, and instead of [producing] these songs about needing this guy, she flipped the switch and rewrote the rules on not only not needing him, but him needing her.
— Andrew, 24
"Runaway (U & I)" by Galantis
This song brings me back to the end of senior year [of college] when I would play it on repeat to pregame and while out at parties. At this time, I was head over heels for a guy I was seeing, and this song was just present all the time, everywhere, and whenever I thought about him. Whenever I hear this song, I think about the good times I had that last month of senior year, particularly senior week, but also the times I was happy and falling for this guy (which, of course, ended right at graduation).
— Alyssa, 24
What song reminds you of an ex? Tell me in the comments.