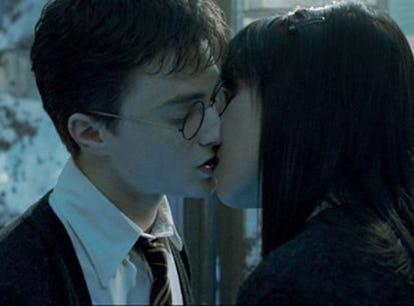 Accio Tissue, These Romantic Harry Potter Quotes Might Make You Cry
Who needs a love potion, anyway?
WARNER BROS.
To be fully transparent, I'm a serious Harry Potter fan... but even so, I don't think it's a bold or controversial statement to say that it is probably the most iconic book series of all time — and it's not just because of the adventures or the spells or the potions. Though those pieces of the story are very fun and whimsical, they aren't really the focus of the books or the movies. The real (hor)crux of Harry Potter is love — in all its different, magical forms.
Familial, platonic, and romantic relationships are explored constantly throughout the series, and there are plenty of goosebump-worthy lines about love to fuel my (and your!) Harry Potter passion. Whether it's Albus Dumbledore waxing on poetically about the importance of honoring love or Harry Potter himself stumbling through his emotions, the series explores love constantly.
And that's what makes these books and movies so special. For HBO's Return To Hogwarts reunion special, Emma Watson, aka Hermione Granger, explained the power of this story: "There's something about Harry Potter that makes life richer. Like, when things get really dark and times are really hard, stories give us places we can go where we can rest and feel held." These Harry Potter quotes about love do the same.
So without further ado, here are the 20 most romantic lines from Harry Potter.
See what I mean? There's nothing better than some Harry Potter magic. And if this list didn't prompt a re-read or movie marathon for you, IDK what will.