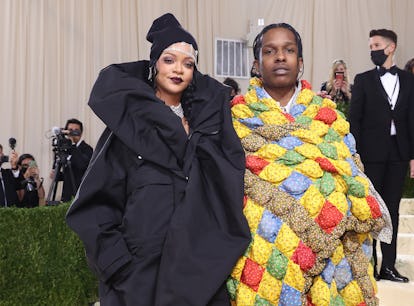 Fans Literally Cannot Handle Rihanna's Pregnancy News
They've got love on the brain.
Taylor Hill/WireImage/Getty Images
RiRi is expecting! The Savage x Fenty founder revealed her pregnancy on Jan. 31 after pictures of her, her baby bump, and A$AP Rocky were taken in New York City over the weekend. And I can confirm I'm not the only one thinking that this baby won the gene pool lottery. Fans reactions to the pregnancy announcement are all pretty much in agreement: Rihanna and A$AP's baby-to-be is lucky as hell.
Although Rihanna and A$AP's pregnancy announcement might have come as a surprise to some, plenty of fans knew this one was coming. (And not just because they were following the rumors for the last few months.) Back in April, A$AP didn't shy away from showing his love to RiRi. During his GQ interview, he bluntly called Rihanna his "lady" and the "love of [his] life." He added, "I think when you know, you know. She's the One." (My heart!)
Their love seems to have only grown stronger since then, and there's nothing better than seeing her look so in love and happy with her growing fam. Well, there might be one thing better (or equally as heart-warming): scrolling through fans' reactions to her pregnancy. I just love knowing I'm not the only one gushing over this, OK?
If you feel the same, take a look at some of the best reactions on Twitter and TikTok so far.
Do you see why these reactions might be as exciting to me as the pregnancy announcement itself? Please, keep 'em coming!