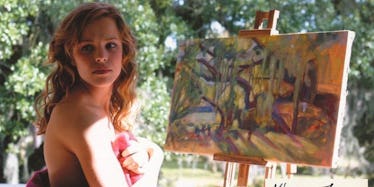 It's Okay To Go Back To Your Ex If You Ask Yourself This Question First
New Line Cinema
If you have an ex-boyfriend, ex-lover, ex-FWB or anything in between, then you are in danger of committing the ultimate crime: backsliding.
Backsliding is when someone becomes reinvolved with an old flame.
This can include, but is not limited to hooking up, lunch dates, casual dates and going into a full-blown relationship.
I'm not saying you cannot keep a connection with that person; I'm a firm believer in the ability to be friends after a breakup.
I practice this often.
But, getting romantically involved with the past is a dangerous dance and can be hazardous to your sanity.
You can argue the opposite by saying you know each other so well, it was bad timing before, it's different this time or you're just having fun.
But the reality is, if it didn't work the first time around, someone is going to get hurt yet again.
It's easy to fall into these traps because we'd all like to believe in the story we've grown accustomed to in movies, books and television.
This story follows the idea you will find your way back to each other one day in an epic declaration of love.
However it ended before, whether amicably or in a messy destruction, it left a mark.
You will always have a connection with that person and always feel for him or her, whether you admit it or not.
So of course, there are dangers of feeling this again and finding yourself backsliding when you meet him or her for coffee.
Don't get me wrong; sometimes it can work out.
Sometimes it truly was just bad timing.
Sometimes it is different.
Sometimes it is just fun.
These are rare cases that we shouldn't base our hope and decisions on because as experience will tell us, it ended for a reason.
I am not cynical.
In fact, I am a proud and hopeless romantic.
I would love nothing more than to believe the rom-com scenarios of running into the arms of another.
I know these chances are slim to none and we might never find each other again, but that doesn't mean all hope is lost.
We backslide out of comfort, loneliness and fear of putting ourselves out there with someone new.
The dating world is big, scary and a pain in the arse. I get it.
I'm not preaching from a soapbox; I'm actually not preaching at all.
I'm giving the experiential pep talk to those of you who are thinking about or hoping for the backslide.
I have been there, and I have done that.
I went for the right guy at the wrong time twice.
It was just so easy and comfortable, but it felt different this time around.
So if you are thinking of calling up your ex, first make sure you do it for the right reasons.
Don't do it out of loneliness, fear or familiarity.
Be honest with yourself about what it is you truly want.
Make your intentions clear to yourself and your ex.
I am guilty of the ultimate backslide.
I spent two years on and off with the "one that got away."
I backslid so many times with a guy I just couldn't let go of, and I became the rare case we base our hopes on.
Once I asked myself these difficult questions and answered them honestly, it worked out for me on the last time.
So my advice is, if you are going to backslide, do it with grace and caution, along with good reason.
You know the saying, "Fool me once, shame on you. Fool me twice, shame on me?"
Say that to yourself next time he walks in looking better than you remember and flashes you that smile that made you melt the first time around.
You'll start slipping down the slope immediately.
Trust me.