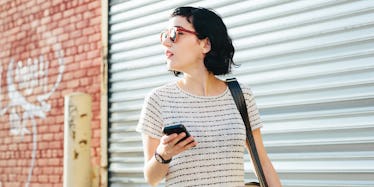 5 Reasons Happn Is The Tinder For People Who Have Their Shit Together
Good Vibrations Images
Generation-Y is a hustlin' generation. We're busy. We have goals. Many of us have full-time jobs and a side business and a blog as well as several entrepreneurial aspirations. We're a driven generation, and we love being labeled as such.
In short, many of us have our shit together, and those of us who do want to meet someone like-minded who also has their shit together. For some reason, though, we're not having any luck on Tinder.
When it comes to dating, it won't even work unless we can fit someone into our busy schedules, which is only possible if that person has a similar lifestyle to ours and lives or works close to us. We definitely don't have time to commute across town for a date, and we're too busy to waste time on fuckboys.
But how do we meet someone with a lifestyle that meshes well with ours? Enter Happn.
Happn is a popular dating app that already has over 18 million users and is said to be the new Tinder. It's most well-known for solving the problem of missed connections by introducing you to someone you crossed paths with in real life. Maybe a cute guy smiled at you at Starbucks and you were too shy to make a move. Getting reintroduced on Happn is the second chance you need.
By introducing you to singles you've crossed paths with, you'll meet someone who lives or works nearby. It also seems to be the favored dating app for young professionals, making the user pool full of ambitious singles with a good head on their shoulders.
Here are five reasons anyone who wants to meet someone of quality needs to stop using Tinder and just try Happn instead:
1. Less blank profiles means you're not matched with random weirdos.
Using Tinder can result in a ton of wasted time because your date is nothing like you expected. A total degenerate. We don't have time to waste on someone subpar.
Since Tinder allows blank profiles, we end up agreeing to meet someone we know nothing about. On Tinder, you'll see just a photo, with no "about me" write-up. Basically, a ton of blank profiles.
It's certainly an advantage that Happn tells you a bit more about the person you're looking at and I don't think I've ever seen a blank profile on Happn.
2. You can meet someone who lives or works near you.
Happn's hyper-location technology can introduce you to someone who lives on your street or works in the same office building as you. It's just one more thing you'll have in common with each other, and it's nice to share some sort of common ground or similar routine.
3. You'll finally meet young professionals with their shit together.
On Happn, most people have their profession listed in their profile because the app conveniently imports everyone's profession from their Facebook profile.
This is important and it's something Tinder, for some reason, doesn't import. It's a given that driven, young professionals with good careers want to meet other driven, young professionals with good careers.
4. The new "See You There" feature allows you to see who's available to meet for an activity right now.
This is an awesome feature Tinder doesn't have. Happn's "See You There" feature lets you choose an activity such as going for a walk, grabbing a drink or getting ice cream and people nearby can respond if they like your profile and your activity choice.
The perfect match for you will probably like the same types of activities as you, so this is a great way to find out shared interests.
5. You can meet someone who shares your idea of a good time.
On Happn, you'll meet someone who has the same sort of after-work lifestyle as you, which means you could meet someone who frequents the same bars and restaurants as you. Or someone who goes to the same gym as you. Or someone who loves Happy Hour just as much as you do.
Basically, Happn is awesome because you'll meet people who like to spend their downtime doing the same types of things as you. Unfortunately, Tinder simply doesn't allow you to come close to knowing these types of things in advance.