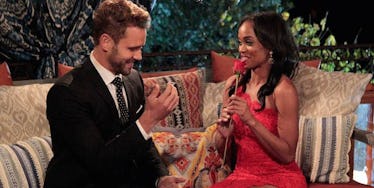 New 'Bachelorette' Rachel Reveals Whether She Would've Accepted Nick's Proposal
ABC
After Rachel Lindsay was announced as the next "Bachelorette," all of America patiently waited for her to get her heart broken on primetime television.
Though it was a bit anti-climactic, her elimination from "The Bachelor" this week wasn't any less painful.
"I was very shocked," Rachel told E! News. "It's one of those things where it's out of sight, out of mind, but to watch it and to go right back to that moment, I don't care how many months have passed, it was very, very hard for me to watch, and it made me realize how much I wanted it to work."
But the 36-year-old "Bachelor" himself, Nick Viall, clearly had chemistry with Rachel.
And out of the three women left last night, Rachel had a lot of support from viewers when it came to nabbing that final rose and a huge rock on her finger.
Though she's mentally prepared to be swept off her feet by any of the men who will compete for her heart on the next season of "The Bachelorette," things could've gone very differently had Rachel made it to the last "Bachelor" episode.
In fact, Rachel revealed she was very ready (at the time) to become Mrs. Viall.
She said,
Back then, I would've. I've moved on since then and time heals all and to be back with family and friends and work, it's a different situation, but I 100 percent would've said yes back then. That was the mind-state that I was in.
Getting all the way to third place, with the finish line in arm's reach, only to be told you're basically not worthy has to suck.
And apparently, the decision to send Rachel home wasn't the easiest for Nick either. He admitted,
In an alternative world, who knows what could've happened. But I, for better or for worse, had two other amazing women...even though I sent Rachel it's not as if I felt nothing when I sent her home.
She's a lovely person, a magnificent woman, she's going to make an amazing Bachelorette and I wish her nothing but the best.
While Raven Gates and Vanessa Grimaldi continue to pine over Nick's love and affection in the final episodes, Rachel is fully prepared to find the true man of her dreams on her very own season of "The Bachelorette" later this year.
I mean, Rachel deserves some serious credit. I probably would've needed to be sedated with horse tranquilizers and dragged out of Finland by my ankles. I imagine Corinne would've gone out in a similar fashion, too.
Let's hope Rachel finds some much better luck than I have!
And my gay "The Bachelor" petition starts... now.
Citations: New Bachelorette Rachel Lindsay Reveals She Would've Accepted Nick Viall's Marriage Proposal (E!)