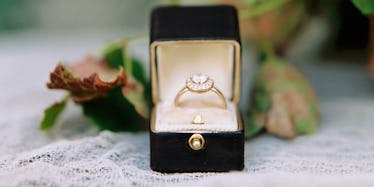 This Girl Rejected BF's Elaborate Proposal And The Secondhand Embarrassment Will Kill You — WATCH
Julia Kaptelova
I'm hard pressed to think of literally anything more awkward than mustering up the courage to propose to the person you want to spend the rest of your life with, only to get rejected.
Oh, wait! I thought of something.
How about having your proposal rejected in an extremely public setting... and having it all caught on camera by random strangers for the whole world to see?
Yep, pretty sure we can all agree that would be more awkward. And unfortunately, that's what happened to this dude at a Columbia Fireflies baseball game on Monday night in Columbia, South Carolina.
UPDATE: TV station WLTX19 reports that this rejected proposal was actually a prank set up by a Fireflies staff member. The couple shown in the video are reportedly already married.
EARLIER:
If you weren't able to watch the video in full, let me give you a little recap.
It looks like a beautiful night in South Carolina. The weather looks nice and toasty.
Bruno Mars' song "Marry You" starts playing over the stadium speakers, and four friends of the guy who proposed took to the field to start their choreographed dance to it.
When Bruno Mars sings "you" in the song, the guys dancing even point to his girlfriend, to you know, make it super clear what's going on here.
As if physically pointing to her wasn't enough, they then whip out some sheets of paper that I can't really make out in the video, but I'm going to assume they were asking the girl to marry the guy.
The camera then pans over to the guy on one knee as he holds the ring out to her.
As a viewer, you're excited! You're hopeful! She's gonna say yes! They're gonna get married!
But nope. Instead, things get extremely awkward.
Literally, she physically puts her hand out to stop him from giving her the ring. Then, she grabs her purse and storms out of the stadium, leaving him kneeling there and looking like a total doofus.
Here's my thought on the matter: If you've been dating for long enough for him to find it appropriate to propose to you, you should have enough respect for him to not publicly shame him like that.
It's TOTALLY FINE if you're not ready to get married, but maybe just put the ring on while the entire baseball stadium is watching, and then, whisper to him that you're not ready, and you'd like to talk about this later.
Or, maybe just tell your guy in advance you'd like to keep your proposal private.
But anyway, don't feel too bad for this guy.
Refinery29 reports the person who originally posted the video on Instagram explained in the comments that the stadium officials had his back: "She left, and he was escorted to upgraded seats with a couple of free beers from the fans around him."
Who knows? Maybe this was just a ploy for this guy to get some free beer with his dudes!