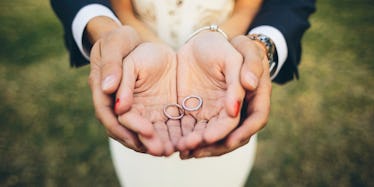 The Story Of This Man Proposing To A Woman He'd Never Met Will Make You Believe In "The One"
Studio Firma
Have you ever felt hopeless about finding your forever person? That no matter how many guys you talk to at bars, how many times you swipe right on Tinder, how many relatives swear they know the perfect guy to set you up with, "the one" for you is just... not out there?
Well, this story of a young woman named Wendy and her husband of 35 years, Jim, might change your mind.
In a blog post for HowHeAsked.com, Jim pens an adorable essay about how he proposed to Wendy, and it is so romantic and borderline nauseating that you won't believe it's a true story. But it is.
On August 6, 1981, Wendy wrote a letter to the PR department of the National Hockey League in Washington, DC, where Jim had been working for the Washington Capitals for two years. Wendy was a young, aspiring sports journalist from Minneapolis, Minnesota, seeking advice for how to break into the industry.
Jim, then 26 years old, answered 21-year-old Wendy's letter, and a month later, he decided to call her on the phone. The conversation lasted several hours, and began a pattern of Jim and Wendy sending each other handwritten letters and Hallmark greeting cards every single day.
"As we got to know more about one another," Jim writes in the essay, "I was convinced that Wendy was that special 'someone' I was destined to meet and for us to spend our lives together."
Yes, he knew that quickly. Keep in mind that Jim had not even met Wendy yet. He didn't even know what she looked like! It was that one phone call and those handwritten letters they sent to each other that made him believe she was "the one."
Why doesn't non-stop messaging someone on Tinder without meeting up IRL lead to something this special???
This next part reads like a plot line left out of The Fault In Our Stars, but I swear to you, it is real:
We finally decided to meet on Feb. 13, 1982. A few weeks before that date, I had suggested to Wendy that we both go outside on a particular night, look up into the stars and make a "WISH" at the exact same time. We would then write those wishes down and then open each other's wishes when we meet.
That really happened. Keep it in mind for later, because it's integral to the story.
Jim started spreading the word about his desire to propose to Wendy. He told his colleagues at the NHL, who encouraged him to follow his heart like the true hopeless romantics all hyper-masculine, athletic bros are. He even called Wendy's mom and asked for Wendy's ring size, a move that Jim says "stunned" her mom. (I mean, yeah. If I were Wendy's mom and a strange man whom I'd never heard anything about told me he wanted to marry my daughter, my first thought would be that he was a serial killer.)
At this point, you're probably wondering if Jim is crazy. He figured you might be thinking that, so he wrote a little rationale behind why he was sort of rushing into this marriage:
I knew every little detail about this girl. I didn't need to go through a series of dates to confirm my feelings. Every value I ever believed in, Wendy was an exact match!
Damn. If you know, you know, I guess.
When Jim and Wendy finally met at the Washington National Airport, all it took was a "big hug and kiss" to confirm that "SHE WAS IT!" writes Jim. Awww.
Now, think back to that lost YA novel plot line, because here's where it becomes relevant again: Before Jim and Wendy fell asleep that night, Jim set an alarm for 12:01 am on February 14 so that he could wake up and ask Wendy to open up his wish.
Sure enough, it read "WILL YOU MARRY ME?" And if you think that alone is sob/gag-worthy, her wish said the exact same thing. 
I don't know about you guys, but I am shook by this story. They're celebrating their 35-year wedding anniversary this week, which is longer than many couples who took years to get to know each other. That's incredibly impressive.
Here are my two biggest takeaways from this story:
1.  If Jim was from Washington DC, and Wendy was from Minneapolis, maybe all we need to do to find our forever person is extend our location range on Tinder.
2. If I responded to more PR emails, I could find the love of my life.
Congrats to this couple!