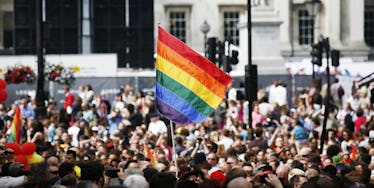 Families Apologize To Shunned LGBT+ Loved Ones In Heartwrenching New Ad Campaign
Bikeworldtravel/Shutterstock
A series of LGBT+ focused advertisements by WCRS will soon be streaming on London's Channel 4 network in honor of their annual "Pride in London" celebrations, targeting acts of long overdue acceptance.
The footage, broken up into four different segments, along with one main video, brings attention to family members who may have rejected their loved ones for coming out and revealing their true sexuality.
The family members in the video appear depressed and torn up, ridden with guilt after realizing how their actions affected someone who, at the time, needed them most.
All of the apologies showcase each person's story in its own way:
One man regrets saying hateful things to his son once he came out as gay.
A mother apologized for believing her child's sexuality would keep her from grandchildren.
A woman regrets labeling her loved one's sexuality as a way to get attention.
A brother says he disassociated himself from his sibling due to a sense of embarrassment.
While the first part of the campaign's run focused more on "hate," drawing attention to the animosity directed toward members of the LGBT+ community, the second part focuses more on "love" and growth.
"At a time when anti-LGBT+ hate crime continues to rise in London, it's vital that we highlight this problem and encourage all those affected to report it to the Met police," said co-chairman of Pride in London, Alison Camps. "But, crucially, this campaign also allows us to look forward with hope, telling the incredible stories of love that make London the thriving and welcoming city we all know."
To help spread love all around, Pride in London is looking for patrons across London to share their thoughts, views, and stories as part of the "Love Happens Here" campaign.
The "Love Happens Here" campaign is tied to Channel 4's 50 Shades of Gay special programming season, commemorating the 50th anniversary of the vote led by Parliament to finally legalize being gay.
"We have come a long way in 50 years, yet we face daily reminders that the global battle for true equality is far from over, and rights hard won can be threatened, attacked and taken away, " says Iain Walters, deputy director and head of advertising and content at Pride in London. "Standing together with Channel 4, we will send a powerful and positive symbol of acceptance, support and friendship."
Coming out is not an easy process, and showing acceptance is something that can never be done too late.