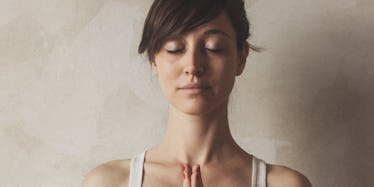 How I Opened Myself Up To The Universe And Got Exactly What I Wanted
Independent. Yep, that word sums me up pretty well.
So it's no surprise that pairing up with and *gulp* relying on someone else has always been pretty low on the ol' priority list.
Sticking with the "I can take care of myself" theme, it was only natural that I upgraded to my own one-bedroom apartment as soon as I could. As per Beyoncé's instructions, I threw my independent woman hands up in what I believed must be her general direction.
And then, it happened.
While lying on my couch watching "Pride and Prejudice," inspired by Lizzie's fierce gumption, I heard a scuttle. OMG. I was not alone.
It was me and Mr. Mouse. Mr. What-The-Hell-Do-I-Do-With-You Mouse.
And for the first time in my life, I actually thought "Oh, shit. I can't deal with this. I need a bohhhhhhhyfriend to deal with this."
So, I did what any 20-something New York girl would do. I decided to open myself up to The Universe.
Of course, to speed things along in the love department, I invested in some Rose Quartz, too.
Universe, lets dance:
Day 1
I placed a big hunk of Rose Quartz (FYI, it's the healing crystal of unconditional love.) in the love corner of my apartment.
Wait, love corner? That's right folks, your home has different energy spots. In Feng Shui terms, the love corner is the farthest right corner from the front door.
This also happens to be my bedroom, which, in crystal land, is one of the best places to plop some Rose Quartz. Already, the universe was on my side. I could feeeeeeel it, you know?
By 6 pm, I was so inspired to rid myself of Mr. Mouse and get the love vibes flowing, I ended my three-year Facebook hiatus just so I could sign up for some dating apps.
How's that for a shift in mindset?
Day 2
Feeling good, but it was time to up the anti. What if Mr. Mouse has a Mrs. Mouse, and they want to start a family… IN MY KITCHEN? No.
So, I did what any self-respecting single lady would do: I clipped Rose Quartz to my bra.
Within a few hours, The Universe really hit it out of the park…
I was walking down Madison Avenue, in an area I am in approximately twice a year, and I get a shoulder tap/curious hello combo. "Laura? Is that you? It really is you! OMG!"
Yep, some HOT rando I'd met over the summer had seen me, stopped me, and yes, ASKED FOR MY NUMBER.
He later texted asking me what were the chances we'd run into each other, and what did it all mean. My response?
"It means the crystals are working! They're really working!" Smooth. I may have dropped the ball here. Whoops, a little rusty!
Day 3
My phone kept buzzing. What the heck was going on?
Oooooh, dating apps. Duh. And lookie here, I have matches. Woohoo! *Gives The Universe an appreciative nod*.
Within 20 minutes, I have three dates lined up for the following week. Oh yeah, I can feel Mr. Mouse quaking in his tiny little mousey boots.
This whole ask-the-Universe thing is freakin' awesome!
Day 4
By this point, I'm converted. I'm a believer. The Universe really does have your back; it turns out you just need to be open to it.
There's a knock at the door. Weird, I wasn't expecting anyone.
I look through the spy hole. It's a man. A tall man.
OK, Universe, calm down. This is a little much. You know all I really wanted was to get rid of Mr. Mouse. Well, that, or he starts splitting the rent.
Another knock. Fine, Universe, fine…
Me: "Yes?"
Man at the door: "Excuse me Miss, I'm the building's exterminator. I'm here about some mice."
TRUE. STORY.