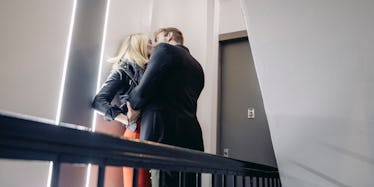 There's One Day Of The Year You're Most Likely To Cheat On Your Boyfriend
Joselito Briones
Thinking about cheating on your boyfriend? Well saddle up, partner, because your ride is about to leave the station.
(That's a saying, right?)
According to the dating website Gleeden — which is specifically designed for married women who want to cheat on their husbands — the second Monday after Christmas is traditionally the hottest day to throw your amazing relationship into a sack of burning cheater garbage.
This year, that specific date is January 9.
The (slightly effed up and mildly masochistic) website has more than 3.3 million members, and usually sees an increase in user activity after the new year.
A spokesperson for Gleeden reveals that last year, on Monday, January 11, 2016, the site had an increase of registrations upwards of 320 percent, and that this trend held true throughout the entire month.
One more time, with feeling: The site had a 320 percent registration increase.
That's, like, a lot of intentional cheaters out there.
Out of a new survey involving 13,000 Gleeden users, 71 percent said they plan to be active on the site at the beginning of 2017, and 52 percent say it's due to looking for a renewed sense of freedom after the holidays.
If you ask me — which, like, I know nobody was — it sounds like what they mean by "sense of freedom" is to not be in a relationship at all.
Director of Communications at Gleeden, Solene Paillet, told Daily Mail none of this comes as a shock.
By registering with Gleeden or spending more time on the online platform, members are seeking a means to inject a little excitement into their everyday life... Routine may weigh down on individuals, or be rather oppressive when it follows extended periods devoted to family life. This is the result of a legitimate human need: to have fun and think of oneself.
*Cough* BE SINGLE *cough*
What we understand from Paillet's explanation is that January is the time of year where individuals might feel most bogged down in their relationships, after having spent significant time and potentially money on their hubbies, in-laws. etc. during the holidays.
For some couples, the holidays may even be a time of fighting or tension, attracting women away from their partners and into the mystery arms of a stranger who doesn't come with any baggage, racist relatives or children.
Alas, I'm no one's mom. So if pulling one over on your partner gets your rocks off, go ahead: you have five days to plot accordingly.
Citations: Is YOUR partner seeking a bit on the side? Data reveals January 9 is the day people are most likely to try and start an affair (because they want to reclaim their 'freedom' after Christmas) Read more: http://www.dailymail.co.uk/femail/article-4086344/Data-reveals-January-9-day-people-likely-try-start-affair-s-want-reclaim-freedom-Christmas.html#ixzz4Uoks6XYf Follow us: @MailOnline on Twitter | DailyMail on Facebook (Daily Mail)