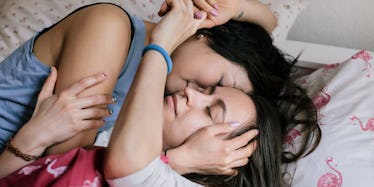 5 Tips For Older Lesbians Who Are Interested In Online Dating
VegterFoto
As someone cleverly once wrote, "Dating is hard, no matter who you are." This is especially true when seeking a same-sex relationship. It's difficult to know if someone else shares the same sexual inclination as you, and once you've found a likeminded individual, it doesn't mean you're a perfect match.
When you were a tad younger, hitting bars was probably the greatest idea since sliced bread. Now, you're more mature and you know what you are looking for in a partner, whether it's a serious relationship or a lifelong friend.
So, how do start looking for a partner?
1. The Internet of Things
One of the greatest inventions to come out of the age of the Internet is online dating. Given that we spend so much time glued to our screens, it makes perfect sense to be able to meet people online.
Now, we don't have to rely on those sometimes disastrous attempts of meeting people through well-meaning friends, family or colleagues. Apps have also increased the prevalence of online dating and helped it lose its stigma.
2. Choosing a Dating Site
If you're not too busy finding the career of your dreams, you should definitely do some research before choosing an online dating site. There are hundreds of sites out there, so read what each has to offer.
While many are free and therefore have no entry barrier, those that are subscription-based tend to attract people who are looking for something more serious. Most mainstream dating sites cater to the same-sex community, so don't disqualify those.
Mature lesbians can be found on sites that focus specifically on lesbian dating over 40 or even on sites that cater to all lesbians.
Safety and discretion are important, so find a site with a disclosure feature. In other words, research sites where singles reveal themselves only after accepting communications. Even so, most paying members keep their profiles visible to allow for open searching.
3. How to Date Online
While you may feel that you're in rush, don't. You've waited until now to find your dream mate, so you may as well do it properly.
All sites will make you fill in a profile. Take your time to do it thoroughly, and most importantly, be honest.
Expressing what you want out of a relationship will bring you closer to finding one that works. So, don't just glossing over the details and open yourself up to endless, unsuitable matches.
On the flip side, you don't need to spill all the beans. Just keep it honest and light. Now, start searching!
4. Interesting Facts to Keep in Mind
While looking for love online, there are some interesting statistics worth keeping in mind. According to an article in Wired.co.uk, nearly 70 percent of same-sex couples met online.
This growth also shows "no signs of abating." Basically, your pool of fish is incredibly vast, and your chances of finding a partner are immense.
According to Dating Sites Reviews, 48 percent of seniors look to online dating to find a serious relationship, 26 percent seek friendship and 14 percent want to try casual dating.
It seems that more and more people are looking outside their own networks of colleagues, friends, and family to pursue a romantic relationship.
You should also keep in mind 48 percent of single women and 38 percent of single men admit to looking a new date up on Facebook before meeting for the first time. So, make sure your Facebook profile reflects what you want people to know about you.
5. Bottom Line
Online dating paves the way to finding a perfect match, and the statistics show that your chances of finding one are extremely favorable. So, take your time to find someone suitable.
After all, there is certainly a large enough user base to make sure that lesbian dating over 40 can be a wonderful and rewarding experience.
For more Elite Daily online dating advice: