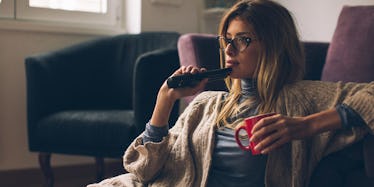 5 Netflix Documentaries To Make You Love Being Alone On Valentine's Day
Wintertime blues are real.
Those blah feelings are only exacerbated when you find yourself single, and you're thrust headlong into the blaring red and pink drug store aisles, where candy canes and snowflake-adorned oven mitts once stood.
Although I now have a fella, I remember that death march to V-Day all too well.
It's a time when your unattached status is constantly being brought to your attention by people and heart-shaped candies alike.
Sometimes, the only course of action is to fill life with dysfunctional people and situations, so your life of solitude suddenly looks preferable.
But, what do you do if all your friends are happily attached or non-trainwrecks themselves?
Well, as is the case with most situations, turn to Netflix to see what you are not missing out on.
Just a couple clicks away are a bevy of documentaries that will make you feel like being alone is not the end of the world after all.
Things could always be worse.
Here are five Netflix documentaries that will make you happy to be single:
1. "Crazy Love"
If you're bemoaning your relationship status, the title of this movie perfectly summarizes what it's about and why you should watch it.
The film recounts the story of a couple who met in the 1950s and how their relationship survived jealousy, adultery and an attempt at permanent disfigurement using lye.
I bet I had you thinking it was all sunshine and rainbows until the lye.
The bizarre tale of codependency will make your feminist senses start going off like mad.
A life of living by yourself will start looking mighty good by comparison; this I promise you.
2. "Dear Zachary"
Long before "The Jinx" and "Making a Murderer," there was this true crime documentary about love gone wrong.
Warning: It will make you cry more tears than the human body seems capable of producing.
Thank heavens Netflix has kept this streaming so that the maximum amount of people can be floored by the emotionally scarring roller coaster of feelings. (There's safety in numbers.)
I don't want give away too much about it because the twists and turns need to be unexpected in order for this documentary to be heart-rending to the highest degree.
It may not the most uplifting film, but I have yet to meet anyone who has seen it and hasn't recommend it.
As a bonus, it will also leave you mildly untrusting of any romantic partner from here to eternity.
3. "The Final Member"
I promise you will love this documentary once you're able to fully absorb the film's premise.
The Icelandic Phallological Museum is looking for its first human specimen.
The museum is the world's only penis museum, and it has already collected specimens from every other mammal.
The two men competing for their place in the museum will leave you feeling less than boy crazy.
One wishes to donate while he is still alive, with some strange caveats.
Once you consider these are the kinds of single guys who could be potentially on the market, you will happily log off Tinder for two seconds and breathe a long sigh of relief.
4. "Tabloid"
This crazy documentary tells the story of a beauty queen who was arrested with the rape and kidnapping of a Mormon missionary in the 1970s.
I surely wish I could say the plot was that simple, but 90 minutes in, the twists and turns to crazy town quadrupled.
It's enough to make your worst blind date look pretty darn amazing.
Also, the lady in question, Joyce McKinney, has an over-the-top, slightly unbalanced Suzanne Sugarbaker quality I cannot get enough of.
If her brand of delicious insanity is what being a single lady of a certain age looks like, I could get on board.
5. "Love Me"
This documentary is about a very lucrative service that finds American men some lovin' on the other side of the world (usually from some sexy, yet war-torn and oppressed nation).
It may say a lot about my psyche, but the subject of mail-order brides is one I find both intriguing and confounding.
The whole process of going overseas, finding someone and then only communicating through translator seems too exhausting to wrap my practical mind around.
Would it even be possible to mail order a groom? Maybe.
Perhaps I just never looked hard enough when I was single.
Your hearts will go out to the men of "Love Me" because they are clearly being bamboozled by women who just want money or green cards.
If this was my only hope of marriage, I'd personally elect to be alone.
If this list of documentaries isn't enough to soothe your soul, then maybe just stick to wine.
Wine always works.