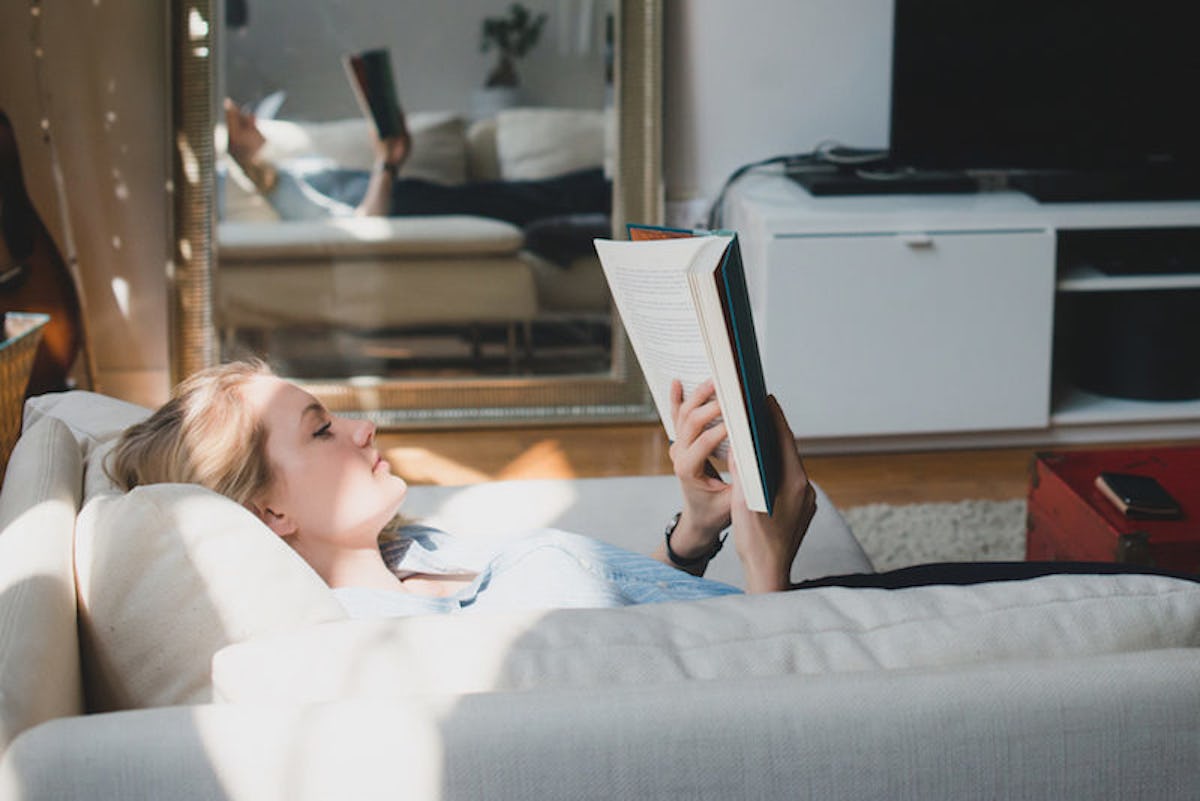 Why You Won't Really Feel At Home Until You Move In With Your Boyfriend
Lauren Naefe
I've lived in New York for nearly seven years. That means in just three short years, I'll be the living, breathing definition of Carrie Bradshaw's "true New Yorker."
A decade in New York. What a time to be alive.
In the seven years I've called New York home, I've lived in four different apartments and one dorm room. I've had countless roommates, three neighborhoods and many an adventure.
New York has been an amazing infrastructure to house many a life lesson. It's given me the network to pursue my dream career as a sex writer and served as the backdrop to the crazy adventure of finding the love of my life.
But there was something missing in this entire moving, adventuring, roommate hunting and learning thing. A sense of home. A sense of belonging. Instead, there was a sense of restlessness, an anxiety that followed me everywhere.
Despite its best intentions I'm sure, New York has always made me feel like a waif. I was happy and content in the city itself. I had a home here in my internships, classes and first real job. I felt alive at the parties and on the rooftops. But I never had a home.
I had a zip code and a temporary address at any given time, but it never felt safe or comfortable. It never had any of the qualities a home is supposed to have. None of the four apartments in which I've dwelled have ever made me feel "cozy." I never wanted to just "hang out at home."
There was a frenzied nervousness in the pit of my stomach in every place I've ever lived. A sense of walking on eggshells, not wanting to upset my roommates, not wanting to break someone else's rules. It's a very weird thing, living with roommates. They're your friends, kind of. They are your cohabit-ors with their own lives, their own plans.
I didn't feel any less nervous when my serious boyfriend and I decided to take the plunge and move in together.
My boyfriend really is the greatest. He even wrote an entire article about what it's like to date me that's essentially a love letter. It's kind of weird and awesome being loved that much. It's hard to believe you really deserve someone like that.
I decided to move in with him as soon as possible. Honestly, I was a little afraid that if I didn't just pull off the proverbial Band-Aid and do it, I would have a meltdown.
A flurry of questions clogged my mind as I hurried to book the movers and order boxes off of Amazon Prime.
"I want to get it over with," I kept telling friends and family. "I want to be settled."
This was the biggest step I'd ever taken in a relationship. In all likeliness, my boyfriend would be the last person I ever moved in with. This was the end of roommates, of cohabitation with strangers, of having a bed to myself.
And if it wasn't, I'd have to go back to roommates and cohabitation with strangers. I never found that living scenario natural, though I'd pretended it worked for me. I didn't have much of a choice on a starter salary… or any salary in a city as expensive as NYC.
I was scared.
I was scared.
The day of the move went smoothly. The movers were early (which never happens); they got everything out of my old Bushwick neighborhood and into my boyfriend's enormous Alphabet City studio in just under two hours (which never happens).
By 5 pm, I had the entire apartment unpacked, my boxes broken down and all of my art strategically hung on the walls. I hung Christmas lights over the arch of our open bedroom nook.
"Your apartment is so cozy," my brother said later that night, draped over my newly built bed.
He was right. It was cozy. It was very cozy.
The next morning, the first morning in my new apartment, I was overcome with a luscious wave of happiness. I woke up in MY bed to the smell of freshly brewed coffee. The sun poured in from our floor-to-ceiling windows.
My boyfriend brought my coffee, no sugar and a dash of cream, to me in bed. I sat against our overabundance of plush pillows and breathed a sigh of relief.
I've lived in New York for nearly 7 years and waking up in my new apartment with @mfishbein next to me was the first time I felt at home. — GigiEngle (@GigiEngle) July 26, 2016
I never have to wait for the bathroom again. I don't have two people competing for the shower, I thought.
The apartment is the perfect size for two people. It is filled with OUR stuff and no one else's. It is beholden to no one's rules but ours. We share it with no one else.
We can do whatever we want, and no one will be angry or annoyed or upset. No one will ever be passive aggressive or stingy with their things. There is nothing to be stingy with. There is only us.
I am here, living with the man I love. He isn't a roommate I have to appease; he is my boyfriend.
That morning, as I sipped my coffee and took in the Christmas lights, the well-organized drawers and strategically hung art, I finally understood what it felt like to make a home. I was at home.
To be at home is a beautiful, safe and relaxing thing indeed.
"I could stay here for the rest of my life," I said to my boyfriend, as I got ready to start my day.
Be sure to sign up for Gigi's newsletter for the latest in love and sex.