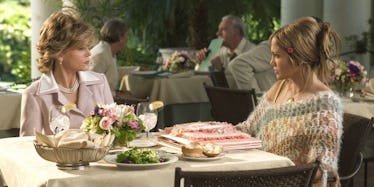 Women Admit Why The Mother Of The Groom Made Them Call Off The Wedding
New Line Cinema
Whether or not you're ready to admit it, when you get married, you marry your fiancé and their family members as well.
So what happens when you don't get along with a key member of their family, like one of their siblings, their dad or even their mom?
Well, working on building a decent relationship with their immediate family should be at the top of your wedding to-do list.
But sometimes, no matter how much you work on those relationships, there's no guarantee your fiancé's family will be on your team in the end.
In fact, if you butt heads with your fiancé's mom, she might even find a way to push you, not down the aisle, but over the edge, to the point where you cancel your wedding.
Wondering how that could possibly happen? Hear what these five women have to say about why the mother of the groom made them call their entire weddings off:
1. We didn't see eye to eye on politics.
Early on in the whole political debacle, my fiancé's mother and I were constantly fighting over the presidential candidate and who would win. It really put a dent in our already rocky relationship. Then, she sat me down one day and said that if I wasn't going to vote for the political party of her opinionated choice, I would never be accepted as a part of the family. This all ended up coming between my fiancé and I. It tore us apart. We called off the wedding, and now that the election is over, I'm hoping we can start over.
— Kathy V., 25
2. She told me the truth about her son.
I had been dating my ex for only a year before we got engaged. One day, his mom sat me down and told me she wanted me to know the truth about him — that he was cheating on me. At first, I thought she was just saying all of this to get me to break up with him secretly since she never liked me. But after she told me, I did some investigating, and it turned out to be true. She did me a big favor and let me know about the cheating ways of her son.
— Riley B., 29
3. She warned me of what the future would look like.
About three months before my wedding, my ex-fiancé's mom called me up to let me know that if I did go ahead with this marriage, my life wouldn't be so great. She told me that her son was lazy, that he was planning on quitting his job the second we were married and that she didn't think we were a good match. By the end of the phone call, she convinced me I was making a big mistake. I don't know what made her feel like she should do this, but a couple of months after it happened, I called off the wedding. And I felt a giant wave of relief afterward.
— Cristy B., 29
4. I told her I had my doubts.
Literally a week before the wedding, I started to have cold feet. I was really close with my ex-fiancé's mom, so I called her up. I admitted everything to her, hoping she'd just talk me down the aisle. But instead, she talked me out of the whole thing. She told me it would be less embarrassing for me to just end the relationship pre-wedding rather than worrying about getting the marriage annulled afterward and having to return gifts. So that's exactly what I did. My ex-fianceé's mom and I are still friends. He and I are not, obviously.
— Rachel B., 33
5. She suddenly refused to pay for the wedding.
I got engaged when I was 22, and neither me nor my fiancé had very much money in the bank. We had to ask his parents to pay for the wedding. When they agreed, we started planning away. However, two months into the planning, we got into a huge fight with his parents. I don't even remember what it was about, but it was nasty. They told us they wouldn't pay for us to get married anymore, so we ended up canceling the wedding, and eventually, we just eloped.
— Kim W., 24