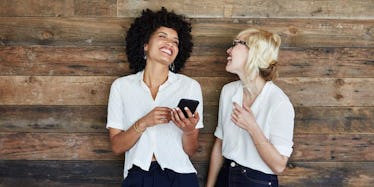 9 Messages To Send Your Bumble Match Based On What Their Profile Says About Them
Bumble is hard. The idea of women making the first move is delightful, but the actuality of it makes me sleepy. Sorry, feminism: I love you, but I'm lazy. I'd much rather my match come up with a witty-and-interesting-but-not-overwrought question to ask me than have to invent one of my own. Also, I'm a millennial.
Since that is not how the hive works, I have learned to act like a grown woman and send messages first. I've found that if I figure out some messages to send my Bumble match based on what his profile says, he's much more likely to answer.
I've had a lot of recent practice with this, as my therapist — so functional, right? — recently challenged me to go on 50 first dates. (Actually, she said 100, but hard pass on that.) To my own shock, I'm trying it out. I'm happy to eat and drink with 50 different people like a maxed-out-but-also-budget version of The Bachelorette, but the actual Bumbling is where I lose patience.
Now that I have forced myself to send some mortifying number of messages, I feel that I have some advice to offer. Here are some talking points that I'd like to share.
1. Bring Up The Social Network
If you have a mutual Facebook friend who's not a strange socio from summer camp, talk about them. Ask your match how they know Talulah from work. Why mention yourself to the person who potentially might go on a date with you, right?
But seriously, this is an easy conversation starter. Thanks, Zuckerberg.
2. Do Some Actual Networking
I am considering applying to grad school, and every time I see a bro who has gone to one of the schools I want to apply to, I ask him how he liked it.
This one can go either way: People love talking about their MBA experiences... if they were pretty much travel/theme/yacht parties for two years. They will shut down completely if they were locked in the library the whole time.
3. Talk About Being Travel Buddies
Hot take: Don't just ask them how they liked Thailand if you haven't been there, too. This is boring, and they probably get this line a lot. You're not boring! Do better.
That said, if you see a picture from Budapest, and you've been there, too, definitely bring that up. Talk about the soupy baths and cold beer you both indulged in. It's more fun to reminisce about travel with someone whose been there.
4. Talk About Pizza
If your match's bio lists "pizza" as an interest, they have a pic with an enormous slice, or there is a pizza emoji anywhere on their profile, just say "cheese." Or be normal and say, "Pizza or tacos?" Or, "What's your favorite slice?" Pizza is round and gooey, and everyone loves talking about it.
5. Comment On Their Bio
Whatever your match is being all autobiographical about in their bio is something they take some pride in. Ski emoji? They want you to know that they ski. "Just moved to the city"? They want you to recommend all of the bars.
Basically, take a hint from them about what they want to be asked about.
6. Request A Surf Lesson
It seems that some people just can't tuck in their love for surfing. If 3/5 of your match's photos are on a board, ask for a lesson. Why the F not?
7. Ask About Dat Dog Tho
Much like putting things in a Bumble bio, if your match has photos with a cute canine — or even just solo photos of a pup (why is this such a thing?) — ask them about it. Fingers crossed that it's theirs and you get to play with it, but if not, at least you know they are a dog person, too. Phew.
8. Ask About Their Selfie
JK. Don't match with selfie-ridden Bumble bees. I think a fun question, however, is, "What's your favorite picture of yourself from your profile?" It's weird and unexpected, and their level of narcissism will be shown quite readily. Try it. Let me know how it goes.
9. Compliment Those Baby Blues
I'm undecided on this one, so proceed with caution. I think when women compliment a man on his outfit or eyes — let's refrain from bods — it can be less creepy and more complimentary. You can say it in a normal person way, like, "I like your tux." Even as I'm typing this, I'm still not sure how this will play out, but knowing men (and some women), flattery works.
If you try any of these pick-up lines to your potential future boo thang, let me know how they work out. Buzz on, queen bees.