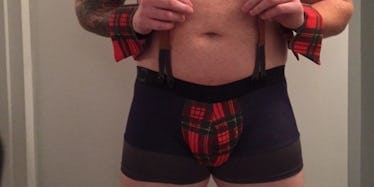 I Tried Wearing 'Sexy' Men's Lingerie For My Girlfriend
Bobby Box
I've been in a relationship with my girlfriend for over a year, and find her exceedingly attractive, which is why I wanted to do something "sexy" for her. Since I'm not exactly the sexy type and, in fact, tend to favor humor as a form of seduction, I was somewhat stumped for ideas in regards to how to do this effectively.
So, naturally, I began Googling male lingerie. Perhaps I did this because, on my girlfriend's last birthday, I purchased us a boozy weekend away and bought her some lingerie that I found incredibly sexy.
What I didn't realize at the time was that this gift -- a very expensive gift -- was more for me than it was for her. I felt pretty bad about that. So to make it up to her, I figured I'd get myself some sexy man underwear and model them for her.
The online search for suitable men's lingerie proved interesting. A simple Google search brought up many online stores and manufacturers, each offering more ridiculous garments than the next.
If it wasn't a literal bra and panties set made for the male form (in lace, I should add), it was a severely revealing wrestling singlet made from what looked like garbage bags or some form of costume you'd expect to find on The Village People.
There seemed to be nothing in between Fruit Of The Loom boxers and a sequined G-string. There's no way in hell my girlfriend would find any of these sexy, would she?
A photo posted by XDress (@shopxdress) on Feb 15, 2016 at 2:07pm PST
Then, as if by fate, I received an email from Steven Spatola, the vice president of operations at 3 Wishes, a specialty retailer in the lingerie and sexy costume market, who asked if I was interested in taking a look at their merchandise.
After some discussion, he agreed to send me three garments of my choosing. Thankfully, the options available at 3 Wishes were plentiful, and I was able to find three pieces that had the potential to make me, a bearded dude with dad bod, look sexy.
Within a few days, the garments made their way to my home, and I tried each of them on as a trial run. I then stood there, wearing next to nothing in front of my bathroom mirror, noticing all of my physical flaws (and regretting the pizza I had eaten the evening prior).
Since it was the middle of winter, and I'm a ginger, I was pasty as all hell, which did nothing to help my situation. But, since my girlfriend insists she likes her men thicker, I figured "What the hell. Let's do this."
(My apologies for what you're about to see.)
First up was the Neon Effect Boxer, which I confidently donned to become the "sexiest" raver my girlfriend had ever seen.
Her reaction: "It's bad. Just bad. Even on any man with every woman's idea of the greatest physique, it would be bad. It looks like a cheap costume you'd grab at the party store when you're out of ideas."
Next came the Military Jock Brief, which looked absolutely terrible on my frame. I turned around to show off my assets, in an attempt to convince my girlfriend to join me in the trenches. She stayed put.
Her reaction: "It looks like it was made for a woman. Like, something you'd find in the discount bin at Victoria's Secret or something."
Finally, I wore my favorite of the bunch, the Lumberjack Hunk Costume, and took the term "lumbersexual" to a whole new level.
Her reaction: "I actually like this one. I would definitely have sex with you in this. I approve!"
It was after trying on these garments that I thought maybe I should go on a diet. Because, damn, that was not pretty. Anyways, I didn't feel the slightest bit sexy in this lingerie -- I'd go as far as to say I was embarrassed wearing them. But to be fair, I'm also the guy who doesn't like to take his shirt off at the beach.
I spoke with Spatola after trying on these sexy garments -- despite seeing myself in them, I'm going to continue to describe these as "sexy" garments, so go with me on this -- to give me a better perspective of the male lingerie market.
According to him, male lingerie is not nearly as popular as women's -- only about 20 percent of the website's sales are in the male category, and of these men, the majority identify as gay.
Spatola believes this is because "gay men are more confident with their bodies and sexuality."
As for whether the state of heterosexual male lingerie will ever match the popularity of women's, there's no chance; however, Spatola believes there's a good chance that lingerie in the gay male community will be just as popular.
"As for straight men, they're ordering more novelty pieces and matching lingerie and bedroom costumes for their partner," he says. And this makes sense. Based on my girlfriend's own testimony, the novelty lumberjack costume was the item she found most sexy, so a man's preference in his lingerie isn't misguided. He knows what she wants.
This inclination is also represented by male strippers, who wear costumes that range from policeman to construction worker.
The problem, it seems, is that the state of male lingerie is confused: towing the line between sexy and funny. Lingerie on a woman is undeniably sexy. There's nothing funny about a woman in lace lingerie. The reason for this is relatively unknown -- whether this is societally influenced or physical reality is anyone's guess.
But as my girlfriend would later point out, she finds me the sexiest when we're out on a date -- when I dress up for no other reason than to go out with her by my side. And if I'm being honest, I feel the same way about her.
While I loved seeing her in the lingerie I purchased, I find her sexiest when we're out together, and I know she got all gussied up just for me. There's an appreciation and pride in that.
Based on my own foray into the world of male lingerie, I've found that I'm better off just taking my girlfriend out on a date for dinner and drinks. At least that way I'll spare myself some of the embarrassment of far too much male nudity.
Which, again, I'd like to apologize for.