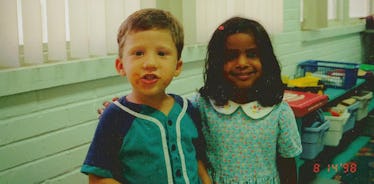 This Guy Declared He Was Going To Marry His Crush In Preschool — And It Actually Happened
Laura Grodsky
One of my favorite couples of all time is the parents of one of my childhood friends.
They had known each other since preschool, and to this day, they're still one of the most happily married couples I've ever known.
The whole staying-in-love-forever thing has already been a pretty confusing topic for me as it is. Staying in love forever with someone you've known forever? Even more freaking confusing.
To be able to only love that one person with your whole heart through thick and thin and throughout your entire lives is probably the most beautiful form of love there is, as far as I'm concerned.
That's why I loved the story of another adorable couple, Laura and Matt, who have known each other since preschool. Seriously.
"Laura and I met in preschool," Matt told The Way We Met. "One of my very first memories is of being 3 years old and standing up in front of my pre-school class, declaring that I would marry her someday."
Throughout their childhood, the couple shared plenty of adventures together.
Matt fondly relayed memories of their childhood: "As kids, Laura taught me how to ride the swings, draw rolling hills, and the 'right way' to properly eat string cheese. We have fond memories of playing hide-and-go-seek, chasing after each other on the playground, and mischievously staying up during nap time."
He stated — break out the tissues for this one — "I was enamored with Laura as a child, and I still am to this day."
Like most couples who have been together literally forever, the two did lose touch for a while. "Eventually, we lost touch upon entering our Elementary School days and for the next seven years, our family's annual Christmas cards was the only way we ever saw each other's faces," Matt said.
Finally, in high school, the two were able to reconnect through a mutual friend, and just like that, they were back on again: "Within two weeks, we decided to be boyfriend and girlfriend."
Laura and Matt's love managed to last throughout all the trials and tribulations that come along with our teen years. "We continued to date throughout all of high school, even though we went to different schools," Matt explained.
Going to separate schools for high school might have prepared them for what was to come, as they went off to different states for college. "We even stuck together long-distance while attending colleges in different states," he said.
"We remained a resilient couple until May 23rd, 2015 when I decided to stay true to my preschool pledge and make Laura my wife," Matt continued. "I proposed to her at the place it all began... our preschool classroom."
In true fairy tale fashion, the two finally tied the knot with all their friends and family there to watch and celebrate.
If you're not sobbing over their sweet, timeless love story yet, I don't know what else to tell you.
Cheers to the Grodskys! And here's to hoping there's still time for all of our preschool crushes to come back into our lives so we can marry them.