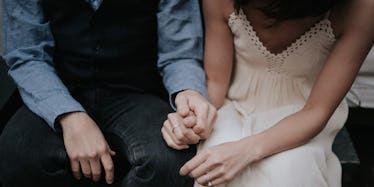 This Guy Married His Preschool Crush After Matching With Her Online 30 Years Later
Daring Wanderer
When it comes to love, if something is meant to be, it's meant to be. You may have no idea that someone you met years ago will end up being the love of your life.
Weird how stuff like that happens, right?
Well, for Amy Giberson, 34,  and Justin Pounders, 34, of St. Petersburg, Florida, something like that did happen (with a little help from Match.com).
According to Cosmopolitan, after a very regular scenario of matching on the dating site, the two had their first date at a restaurant in December of 2014.
The two hit it off extremely well — seriously. Amy recalls, "I remember telling myself 'I'm going to be having dinner with this man for the rest of my life."
Cut to a few months later, and that's when things started to get pretty interesting.
"Justin casually mentioned he always liked my name because his first crush was a girl named Amy in preschool," Amy told Cosmopolitan. "I joked and said 'Well it wasn't me, so I don't want to hear about this Amy.'"
But, as it turns out, she WAS. "Preschool Amy" and "Match.com Amy" are ONE AND THE SAME.
In another convo about a month later, Justin told Amy a story about how he got injured in pre-school and happened to mention the school he had attended. And that's when Amy's head probably exploded... because SHE too had gone to Sunshine Pre-K.
Justin's mother even dug up an old photo from their days at Sunshine Pre-K, sitting knee-to-knee, to prove they were right.
These two former classmates had found each other again 30 YEARS later.
Now, I know what you're thinking. How does something like that even happen?
I've run into old friends on subway cars and briefly walked past a Tinder match before we've even met. But going on a date with a former crush from my toddler days? That's absolutely bonkers.
The happy couple officially made the transition from awkward preschoolers to happily married Mr. and Mrs. Pounders this past weekend.
"I was hopeful that those love stories Nicholas Sparks wrote about were actually real and that I'd have a great love one day. But I never expected this!" Amy told Cosmopolitan about her beyond magical relationship.
So yeah, eat that, "The Notebook." This story about fate is as real as it gets.
Citations: These Childhood Sweethearts Were Matched Online 30 Years After They First Met In Pre-School (Cosmopolitan)