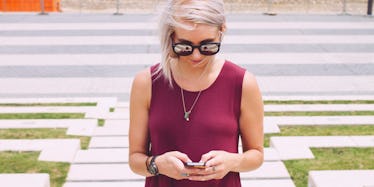 This Sunday Is The Best Day To Sign Up For A Dating Site, Science Says
Chris Martin
Still in that "New Year, New Me" mindset? Yeah, me too. I've even stuck to my resolution to eat more vegetables! (Check back with me in a week.)
The hype about ~starting over~ around this time of year is admittedly kind of eye-rolly, but there really is nothing better than a fresh start, is there?
Especially when it comes to finding love.
Thankfully, according to data from Match, the best time to sign up for a dating profile is literally this weekend.
After analyzing decades' worth of numbers, Match predicts this Sunday, January 8, at exactly 8:49 pm ET (yes, we're getting specific because your love life is THAT important) is the best time to start browsing potential matches online.
On this day, which is called "Dating Sunday," there will be a 42 percent increase in new people signing up for an account.
This Sunday, January 8, at exactly 8:49 pm ET is the best time to start browsing potential matches online.
That is a shit ton of potential husbands (and potential fuckboys).
January 8 falls in between Match's Peak Season, which ranges from December 26 to February 14. Between these dates, Match sees 1 million IRL dates taking place, 5 million new photos being uploaded and 50 million messages being sent.
Bela Gandhi, founder of Smart Dating Academy and dating expert for Match, says,
As the holidays end and the New Year begins, the 'Perfect Storm' in dating begins — the time of year when memberships spike, and the single fish come to sea! There are an estimated 107 million single adults in this country, and at the New Year, many are inspired to make finding a relationship a resolution for the coming year.
If swiping is more your style, Tinder will also see a huge increase in signups on Dating Sunday, so be sure to sign up. You can expect a solid 12 percent boost in matches.
To increase your odds of finding love even more, experts at Match say your profile should have a smiling headshot, a full-body shot, you enjoying an activity or hobby and you plus a pet, close friends or family members.
Blogger Liz Cherkasova of Late Afternoon suggests you make your profile photo a close-up of you looking natural. (Don't overdo it with hair and makeup.) Make direct eye contact with the camera, smile, be sure your photo is well-lit and keep the background simple and muted.
Also, no bathroom mirrors. Sorry.
Time to take a million selfies until I get the perfect one!