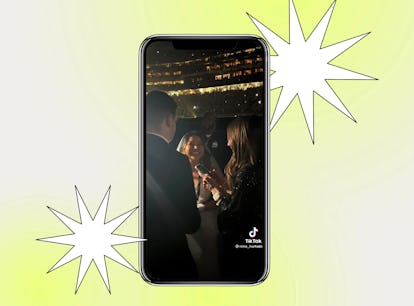 POV: They Got Married At Taylor Swift's Eras Tour
That's one way to get Taylor to perform at your wedding.
TikTok: @renehurtado
As one of the biggest artists in the world, Taylor Swift doesn't really do weddings. Sure, she was Maid of Honor at her best friend's wedding in 2016, but her stacked schedule of stadium shows doesn't leave much time for spontaneous performances. But two fans found a loophole to that problem: They chose to get married at one of Swift's stadium shows, specifically on the floor at night two of the Eras Tour — and they recorded it for the world (aka TikTok) to see.
René Hurtado, 30, and Max Bochman, 32, from Tempe, Arizona, decided to skip the courthouse wedding. Instead, they tied the knot surrounded by roughly 60,000 Swifties. And according to Hurtado, it's exactly what she wanted. "Since last summer, I was telling my then-fiancé that I wanted to elope the day of Taylor's concert, whenever that would be," she recalls to Elite Daily. She figured they could do a legal ceremony ahead of time and go to the concert as their reception. "Once the tour was announced, it became more real. My friend suggested that we just get married at the concert, so we decided to do that instead. Why would I get married at a courthouse when I could get married with Taylor Swift?" (Luckily, Hurtado's now-husband also "loves and appreciates" Swift.)
Once that was decided, the logistics came together pretty seamlessly. Hurtado and Bochman luckily avoided the Ticketmaster fiasco. But their planning wasn't done until the night before the big day, when Hurtado attended the Eras Tour Night One. "On Friday night, I wrote down the entire set list, and I took note of good times. Really, the time we chose was the only good time sound-wise," she explains. Their wedding took place during one of Swift's costume changes, when her "Seven" poem was read aloud over the speaker system. In the set list, it's right between "All Too Well" and "Invisible String."
After exchanging vows, the couple enjoyed the perfectly-timed performance of "Invisible String" — but Hurtado doesn't know if it counts as their first dance. "We were way too nervous to do a full dance, but we held onto each other and just watched Taylor," she says. "It was very, very special."
Hurtado's grand wedding plan also included her Maid of Honor, who acted as the officiant, and her Maid of Honor's boyfriend, who got the role of witness and videographer. He wasn't the only one filming, though. Other videos of the ceremony went viral, and Swift herself even liked one of them.
Although this celebration will be hard to beat, Hurtado and Bochman are planning another, more traditional wedding — and it won't be a completely Taylor-themed event. "I think all of my friends fear it's going to be a Taylor playlist, but I'm going to try my best to cater to the crowd," she says. "I'm going to save the majority of the Taylor songs for my getting-ready playlist so that I can get ready with her."
But what about their honeymoon? "It won't be to any Taylor Swift concerts," Hurtado says. They've already checked that box, and it's setting the right tone for what's to come. In the words of Swift herself, "All's well that ends well to end up with you." ❤️