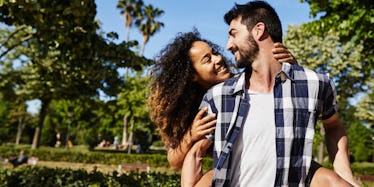 People Are Sharing Sweet Couple Photos In Honor Of Legalization Of Interracial Marriage 50 Years Ago
You guys ready for a quick little history lesson?!
All right, here we go.
In 1958, a black 17-year-old woman named Mildred Jeter married the love of her life, a white 23-year-old construction worker named Richard Loving.
That may seem like no big deal to you right now, but back in 1967, it was a pretty BFD. Why? Well, because, the Lovings were involved in the case Loving v. Virginia, which legalized interracial marriage across the United States.
The couple had already gotten married in Washington D.C., where interracial marriage was legal, but when they went to go visit their family in Virginia (where interracial marriage was still illegal at the time), they were arrested.
The Lovings could've gone down quietly without a fight, but instead, they decided to take this issue to Supreme Court. They fought for nine years in the Supreme Court to make sure interracial marriage would be legal on every inch of the United States of America.
On June 12, 1967, something pretty major happened. The Lovings ultimately won their case with a unanimous ruling, and now, as a result, every American generations later has the right to fall in love and marry someone, regardless of their race.
Today, people across the country are paying respect to Richard and Mildred with tweets about their own interracial relationships, including the hashtag #LovingDay.
This people's parents have the Lovings to thank for their marriage.
The Lovings gave this couple a beautiful, 20-year marriage.
This couple has the Lovings to thank for "14 painfully wonderful years."
The Lovings blessed these people with their beautiful families.
These two were enjoying their honeymoon last month thanks to Richard and Mildred.
They're standing together today thanks to the Lovings.
Their marriage was a direct result of the Lovings' hard work.
They got married in Virginia thanks to Richard and Mildred.
The Lovings gave her a sort of love she could be "in awe" of.
She can be with whom she wants without worry.
Not long ago, their marriage would've been illegal.
Their entire family is grateful for what the Lovings have done for them.
These two are happy to celebrate #LovingDay together.
Happy #LovingDay, everyone!
Got an interracial love story you'd like to share? Feel free to comment below!