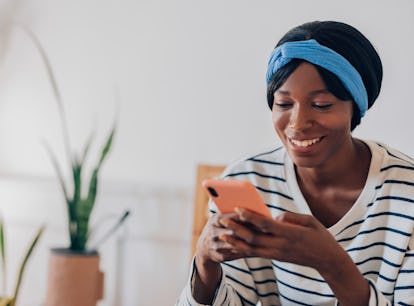 Show Your SO The Love On IG With These 20 Comment Ideas
You don't need a three-page love letter to prove you care.
FreshSplash/E+/Getty Images
There are a lot of different levels to Instagram official, from featuring each other on your IG Stories to your first feed post (not to mention, everything in between). But the next step of taking your relationship online usually happens in the comments section. Still, figuring out what type of comments to leave on your partner's Instagram can be tricky.
You have to have that balance between showing off your relationship (at least a little bit) and keeping things ~chill~. The last thing you want is to feel like you're trying too hard. (IMO, there's nothing worse than second-guessing a comment and then deleting it.) Unfortunately, on the 'gram, that can happen. And if you're in the early stages of a relationship, feeling completely confident in whatever you comment can sometimes feel like a tall order. In the real world, you're able to adjust your tone and gauge their reaction, but that's not the case over IG. Your words are right there in black and white.
So to take some of the stress out of the comments section (cause really, you have more important things to worry about), here are 20 loving comments to leave on your partner's Instagram without any regrets or cringing, guaranteed.
Always remember that what happens offline is way more important than what happens online. So stressing about which IG comment to leave probably isn't the best use of your time. To save yourself from unnecessary worry, just pick a few from this list that you feel comfortable posting, and then let that stress go.
Keep in mind that Instagram comments are really just a reflection of your relationship to that person. So if everything else is on track, one comment will not make or break it. Instead, see the comments as a fun way to express your love. The more serious stuff can (and should) happen IRL — and without any emojis.