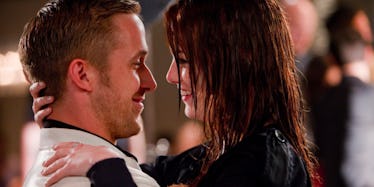 I Knew My Relationship With The 'Bad Boy' Had An Expiration Date When It Began
Warner Bros. Pictures
I could fall in love with him every day.
He had this bad-boy charm any teenage girl would fall prey to. He always seemed to know the right words to say at the right time. He was smooth in the way he walked, in the way he put his arm around me and in the way he put that necklace on me. Especially, the way he put that necklace on me.
But I'm the one who ended it.
Sometimes, the greatest and most ecstatic kind of love is the one that screams expiration date. When you're with him, all you hear is the loud beating of your heart and the ticking of the clock.
I'm the stereotypical "good girl" who ran for student council, and led a feeding program for unfortunate kids in the neighborhood. And as you would predict correctly, I had my own Prince Charming kind of fairytale.
Then I met the "bad boy" who made me take chances, and pushed me to make bolder decisions, so I ended it with Prince Charming.
While I was in own my "bad boy" love story I constantly had moments where my head would tell me "You don't want him to be the man you marry," but my heart would say "Who cares? You're young. You're supposed to be making reckless decisions and living life."
In that very short relationship, I listened to my heart and lived my life, but I knew that someday it would all have to end. Somehow, it would just have to happen. So when he was about to leave for college, I decided it was time. I wanted a last say so I could at least save face, so I ended it.
The thing is, this relationship didn't start in the ideal way a relationship is normally supposed to start. But I would still convince myself that it didn't matter, and that it wasn't all wrong. I mean, when was it ever wrong to love someone and to have someone love you back? Don't we all just want to be happy?
Yet, I still knew exactly what I was getting myself into. The part where I had to doubt for even a second about the real-ness of the relationship, and how genuine the emotions were between us, should have sent me running for the hills.
I had trust issues with him, for sure. But it was my mess and I wanted to stay so one day I could look back and say it wasn't a mistake and I didn't regret it.
But sooner or later, I knew it had to end.
I had a constant feeling the relationship had an expiration date to it. I didn't have the craving or the need to pro-long the relationship. To this day, I would always say it was quite beautiful, but there is always some sort of beauty in chaos. It was an emotional rollercoaster.
People say that's what love is and that's what love is supposed to feel like, and I think that could be true. But I didn't just want to be in love with the person I was with, I wanted to love him unconditionally. I wanted to feel like I could keep on loving him with no expiration date.
I want to love a man, not just a "bad boy." I knew before the relationship began it had no chance of lasting too long because if it did, I'd end up being the crazy girlfriend. The one who was constantly paranoid, the one who was a control-freak, the one who didn't trust anything her SO said and the one his friends quickly learned to dislike and always remembered. I didn't want to be that.
Any girl deserves to be in a relationship where she feels secure and confident in the love between herself and her SO. I didn't want to settle for anything less, but at 17 you just want to love and be loved. So you love carelessly.
That relationship wasn't anything less than real. But just because it's real, or great or beautiful, doesn't mean it's supposed to last forever.