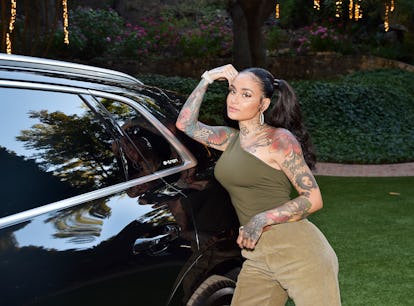 Who Has Kehlani Dated? Their Relationship History Is Emotional
"Each relationship I went through, I feel like I took a brick from it and put it into my house."
Stefanie Keenan/Getty Images Entertainment/Getty Images
When it comes to love, Kehlani has a lot to say about the sexy highs ("Honey"), devastating lows ("Toxic"), and messy, sentimental in-betweens ("Nights Like This"). Listening to her music can feel like hanging out with a friend who has infinite wisdom from the other side of pain, heartbreak, and healing — and even though Kehlani's relationship history has had some ups and downs, they've learned a lot of these important lessons from their past partners.
"Each relationship I went through, I feel like I took a brick from it and put it into my house," the singer, who uses both she and they pronouns, told Teen Vogue in May 2020. "If I did not learn those lessons, no matter how hard they were, I wouldn't be the person that I am right now."
In the past, Kehlani has dated people of all genders and described herself as queer and pansexual. "I think I was always just, like, you have to be gay or you have to be straight — that those were conflicting," she told The Fader in a 2015 cover story. "I learned that there's really no wrong or right, that it was cool to like everything." More recently, she confirmed in an April 22 TikTok that she realized she's a lesbian, a revelation that wasn't surprising to anyone close to her.
Kehlani has had a number of both high-profile and low-key relationships since dropping their first mixtape in 2014. From Kyrie Irving to YG, here's a rundown of everyone Kehlani's dated, in their own words.
It can't be easy to focus on your own feelings when going through such public breakups, but dozens of singles, albums, and collabs later, Kehlani has proven herself unmatched in expressing herself — and the state of her love life — through her honest, visceral, and deeply sexy music.