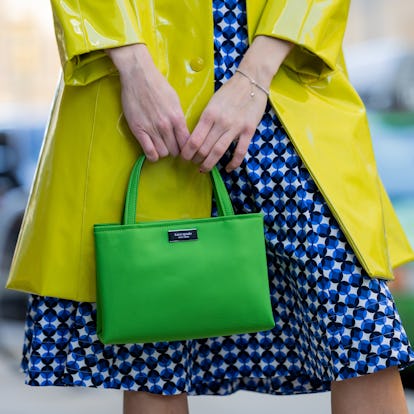 What's A Kate Spade Wife On TikTok? This Trend Reeks Of Sexism
How about we just... don't pit women against each other?
Christian Vierig/Getty Images Entertainment/Getty Images
The Kate Spade aesthetic is all about preppy and colorful pieces that walk the line of sophisticated fun. And apparently, it's a popular choice among wives. On TikTok, the hashtag #KateSpadeWife has over 1 million views, but it's not just about fashion taste. Similar to TikTok's viral #VanillaWife trend, being labeled as a Kate Spade wife seems to imply something about your values and personality — and TikTokers are alternating between insulting and flattering this type of woman.
Some of the first #KateSpadeWife videos were focused on criticizing this "personality type" — or, at least, hinting at it. On Jan. 17, TikTok user @limpbizkitfanaccc posted a video saying, "I may not be the girl you marry but I'll be the one you think about when you're having silent dinner w/ your kate spade wife wondering if I ever got my drinking under control." Later, she clarified, "No one said anything bad about anyone except myself it's literally about how he dodged a bullet." Regardless of her intentions, a trend was born — and this conversation's getting heated.
Now, non-Kate Spade wives and Kate Spade wives are weighing in, and their videos are loaded with not-so-subtle digs at each other. Here's what's going on.
Following videos like this, self-proclaimed Kate Spade wives started speaking out to defend their choices and lifestyle. Unfortunately, their defense also seemed to be rooted in negative tropes, implying that their way of life is the superior one. As one TikToker wrote in the comments, "It's crazy to me that the ones who didn't get the ring think they're what he's thinking about." (Oof.)
On one side, there are the "party girls" being stereotyped as the ones who don't settle down and marry. On the other, there are the Kate Spade wives being pigeonholed as boring and stale. In short, this trends pits women against each other, while also (wrongly) assuming they all fit squarely into two boxes — as if a woman can be summed up completely by her go-to fashion brand and relationship status.
This isn't the first time a TikTok trend like this has become divisive. The #VanillaWife trend had a similarly nasty edge to it, even insinuating that these men will still be thinking of their ex-girlfriends while they sleep with their "vanilla" wives.
No matter what "side" you're on, both #KateSpadeWife and #VanillaWife convey an overtly sexist message, implying that one lifestyle is inherently — even morally — superior to the other. Fortunately, some TikTokers started pointing out the problematic nature of both trends. As one (brilliant) user pointed out, "I don't even know like [our] prize is a man... love mine, but still... a man." Maybe women supporting women is a better ideal to rally around?
Here's hoping this trend gets off our FYPs soon.