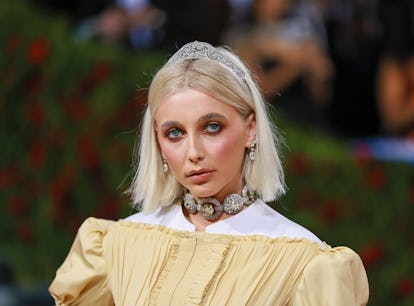 Let's Talk About Emma Chamberlain's Mysterious Relationship History
Theo Wargo/WireImage/Getty Images
Emma Chamberlain likes to keep her romantic life private — and she's felt that way for awhile. Though the YouTube star has shared a lot of her life with the internet (hence the YouTube stardom), she has made it clear how she feels about public romances, and they're not for her. So, um, is Chamberlain single? The world may never know, but that's not going to stop me from perusing her mysterious relationship history.
Though she's spent years in the spotlight, Chamberlain has never actually confirmed any romance, like, ever. It's on purpose, too. In a 2019 interview with W Magazine, she explained her reluctance to publicize any romance. "I don't know if I would ever have a public relationship, ever. And this is not coming from experience in any way; this is coming from morals. I'm speaking from what would feel right. Breakups alone are absolutely the most f*cking awful thing that exist. Why would you want other people to be heartbroken with you? I can't imagine that." She added, "And also, I don't like seeing other people's relationships. It's boring and it's gross." (Agree to disagree.)
It's been some time since Chamberlain waxed on poetically about the perils of public relationships, but it doesn't seem like her philosophy has changed much since then. In other words, there have been no launches (hard or soft) on her IG feeds and zero romance confirmations. Chamberlain's relationship history is veryyy quiet, but here's what I do know.
Though we may never know Chamberlain's actual relationship status, it certainly seems like her and Pillsbury have something special.