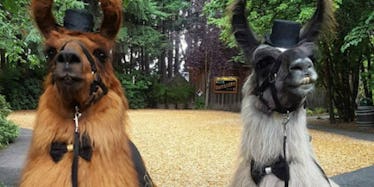 If You Hate Humans, You Can Invite Llamas In Bowties And Dresses To Your Wedding Instead
Who needs pesky, annoying humans with their drama and poor outfit choices when you could invite some SWAGGED-OUT LLAMAS to your wedding instead?!
Animal therapy center Mtn Peaks Therapy Llamas & Alpacas has officially developed a service that's going to take your wedding to the next level.
Basically, if your wedding is being held in either Portland, Oregon or Vancouver, Washington, you are the luckiest person alive because that means you can rent any or all of Mtn Peaks' awesome llamas (named Rojo, Smokey, Diego and Jean-Pierre) to be guests at your wedding — and they'll even dress up.
If you're concerned about the llamas acting up and maybe (literally) shitting all over the most special day of your life, fret no more. The center's website boasts that their animals aren't amateurs:
Our animals are 'pros' when it comes to parties and special events- always decorated to compliment, our llamas can easily handle all ages, and any size of crowd! More than just 'entertainment,' we provide a unique interactive experience for your guests, that most have never experienced before, and smiles that will last forever!
And why not leave your guests with everlasting smiles on the day you celebrate your everlasting love, amiright?
All llamas are created equally in the eyes of God, but there's one Mtn Peaks llama that's a little more special than the rest — and that's Rojo.
Having Rojo attend your wedding is no small feat. Just to paint you a little picture of why he's such a BFD, read this little excerpt from their website:
We are very proud that our especially sweet llama, Rojo, is ranked as the #1 'Beyond the Showring' PR llama in the world, according to the International Lama Registry, and has been featured in the book, 'Unlikely Heroes,' by best-selling author, Jennifer Holland, on the Nat Geo Wild television show, 'Unlikely Animal Friends,' Huffpost Live, CNN's 'Vital Signs,' and an article about our therapy program in 'O, the Oprah Magazine' (April 2015 issue)!
Basically, Rojo is like the Ellen Degeneres of llamas. He's a sweetheart, and he's a STAR. And you could have him at YOUR WEDDING.
I mean, who wouldn't want the Ellen of llamas at their wedding!?
In addition to this being an act of charity to your guests who will be AMPED to spend the day with these adorable llamas and A List (cough cough Rojo) llamas, the money you spend to rent them will be going towards a very good cause.
The website explains that all proceeds they make through booking events for their animals go toward funding their Therapy and Education Program where they're hoping to further their cause.
This all being said, the llamas can be divas if the weather's bad or if they get stuck in traffic:
To avoid undo stress for our animals, we may not be able to fill requests which would require us to travel during peak traffic times. We also may have to cancel event appearances where there is the possibility of extreme heat, ice, or snow.
In their defense, who doesn't want to cancel their plans when it's boiling hot, and you're stuck in traffic?
OK, time to drop everything you're doing, find a boyfriend, make him propose to you, plan a wedding, rent llamas and have said wedding.
Ready? GO.
Citations: This Animal Therapy Center Lets You Rent Dressed Up Llamas For Your Wedding Day (The Huffington Post)