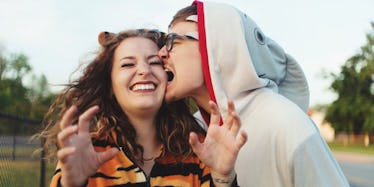 38 Halloween IG Captions To Make You And Your Boo's Pics Stand Out
Who knew Halloween could be so romantic?
If you have a partner in your life, you two may be thinking about going the matching Halloween costume route this Oct. 31. Whether you're stopping by a few different parties, enjoying a quiet night at home, checking out some bars with a group of friends, or even going trick-or-treating, you'll likely want to capture the night by taking some photos. Of course, you'll want to pair your pics with Instagram captions for couples Halloween costumes that'll go with whatever you two wear.
Some couples like to go all out for Halloween with full-on spooky costumes. Others may prefer to keep things low-key with items they can easily find in their closet to reproduce a pop culture reference between two characters. And some might like to go the clever route, like dressing up as peanut butter and jelly.
Whatever you decide on going as this year, I'm sure your costumes will be the talk of the party, bar scene, or neighborhood (if you go for the trick-or-treating route). And your photos will 100% come out amazing. But of course, you'll need that perfect caption to top it all off. Don't fret, because I'm here to help you out. I thought of Instagram captions you and your significant other can use to make sure you havethe most epic Halloween Instagram post. Check out this list for pop culture references, scary captions, and more.
Now that you've chosen your caption for your costume, all that's left to do is enjoy the holiday with your SO. Just be sure to take lots of pics to document the memories, and have the spooky time of your life.
This article was originally published on