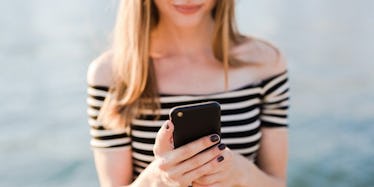 How To Join Tinder Gold When You Feel Like Every Other Dating App Sucks
Stocksy/Good Vibrations Images
If you're a 20-something trying to find love (or a one-night stand, or just someone to grab drinks with to ward off the Sunday scaries), chances are you've used Tinder. It's just the way the world works now. And today, Tinder has launched a new feature called Tinder Gold, a members-only service with tons of awesome new features, including "Likes You," which lets you see who's already liked you before you start swiping. Wondering how to join Tinder Gold? It's super easy.
Until today, Tinder Gold was only available in Argentina, Australia, Canada, and Mexico, but now, it's available in the United States. Throughout this week, Tinder Gold will slowly be made available to iOS users, so if you don't see it on your phone yet, don't panic. When it is available, you'll likely receive a pop-up in the Tinder app that will allow you to subscribe. You'll also be able to subscribe any time via Settings. Tinder is still running tests for the final price, but for most users, it'll cost $4.99.
Once you've downloaded Tinder Gold, you'll be able to navigate to a "Likes You" section where you can see everyone who has swiped right on you. "Think of it as your personal Swipe Right concierge — available 24/7 — bringing all of your pending matches to you," Tinder wrote in a blog post. "Now you can sit back, enjoy a fine cocktail, and browse through profiles at your leisure."
You'll also be able to utilize features like Passport, Rewind, and Unlimited Likes: Passport lets you swipe on matches outside of your region, Rewind lets you undo someone you swiped on, and Unlimited Likes lets you swipe right on however many people you want (when normally, people run out after 12 hours.) You'll be given five Super Likes per day, instead of the one you previously got on regular Tinder, and one Boost per month, which will catapult your profile to the top of potential matches' queues for 30 minutes.
If your dating life feels a little stale, try out Tinder Gold. You just never know!