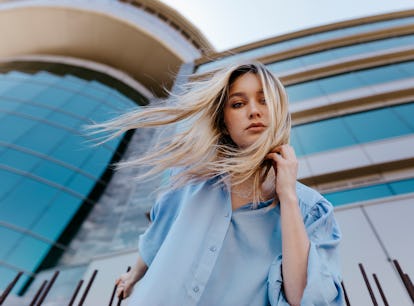 12 People Share How To Get Over Someone Who Was Never Really Yours
It's harder than you think.
Westend61/Westend61/Getty Images
Up until my current relationship, I was consistently single. Now, to be clear, this doesn't mean that I didn't have any traces of romance in my life. In fact, looking back on it, there was always someone special in my life. It was basically a long series of almost-relationships and, if you've ever had one of those, then you know getting over someone you never dated is often more difficult to get over than any other form of relationship. If you're wondering how to get over someone you never dated, then hearing advice from real people who did just that may be exactly what you need.
Getting over someone you never "officially" dated might seem like an impossible task, but there actually are some concrete steps you can take to make it a little easier. Dating expert and relationship columnist Jen Kirsch suggested getting rid of any trace of them on social media in order to cope. As she previously told Elite Daily, "To gain control of not being affected by their actions, whereabouts et al, either unfollow them, delete them, or use the special features on apps to remove them from popping up on your feeds."
After you've hidden them from your daily view, you can also follow the advice of real people, who might be able to tell you how to get over a guy you never dated or a girl you never dated.
While there's no perfect timetable for how long it will take to get over someone, breakup coach and host of the breakup BOOST podcast Trina Leckie said there are often signs you're moving forward. As Leckie previously told Elite Daily, you may "literally just realize that you went a whole day without thinking of them." Yay, progress!
Just because it wasn't a "real relationship" doesn't mean it won't be difficult to get over, so do yourself a favor and treat it like a real breakup. And — just like with any breakup — you'll eventually find a way to heal.
Experts:
Jen Kirsch, dating expert and relationship columnist
Trina Leckie, breakup coach and host of the breakup BOOST podcast
Editor's Note: This story has been updated by Elite Daily Staff.
This article was originally published on