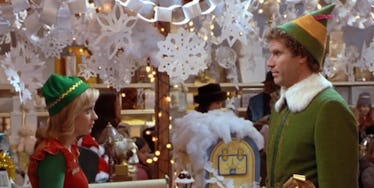 5 Fun Holiday Date Ideas That Don't Cost A Fortune
New Line Cinema
Ahhh... the holidays.
Bring out those ugly Christmas sweaters, rejoice for the return of seasonal lattes (and don't forget to Instagram them) and unapologetically belt out all the glorious holiday music.
It truly is the most wonderful time of the year… and also the most expensive. It can make quite a hole in the pocket if you have a boyfriend or girlfriend for the holidays.
But here are some inexpensive date ideas so your holiday romance doesn't have to cost you a fortune.
1. Make/decorate holiday treats together.
Even if you two aren't the best cooks, who can resist holiday cookies? This can easily cost 5 dollars or less.
Buy a box of cupcake mix or cookie dough and get to baking. Baking makes you two work together -- and you'll share a laugh.
After baking, comes decorating and frosting fights. Try to make some of your favorite holiday treats, or it could be the perfect opportunity to try new treats.
Gingerbread houses are also a classic to try with bae. You can build a house together or create your own house, and then post those beauties on social media and see which one your friends pick superior.
A little fun couple competition never hurt anyone.
2. Have a holiday movie binge night.
A lot of people associate the holidays with precious films that take them back to childhood.
Have you really Christmas-ed if you've missed out on "How the Grinch Stole Christmas" or "Home Alone"? All that nostalgia is just asking to be revisited.
There must be features that your SO likes but you've never heard of? Here's your chance! How awesome and intimate is it to get to -- in a sense -- be a part of your SO's childhood.
I've enjoyed myself the most when I've been around a guy on a date and he goes full-nerd on some of his favorite movies and childhood shows.
One of the sweetest dates I went on was with this guy to watch "Star Wars: The Force Awakens."
I knew nothing about "Star Wars," and back then I couldn't tell you the difference between Darth Vader and Kylo Ren, so watching the film itself was confusing beyond belief.
But he was so enthusiastic, filling me in throughout the whole film, and after that day it was fun to understand why that series was so important to him and why he liked it so much.
Now imagine the holiday-edition of that experience! See what movies remind him of nights with his family, or why she has that inside joke you never understood before.
Movies, holiday treats, trying to keep warm under the covers and hot chocolate. This sounds like a good night, am I right?
3. Go house-light hunting.
Bundle up, take hot chocolate to-go, turn the radio up and go for a ride. Lots of neighborhoods put on light displays, and some of them are really detailed.
Giant inflatable snowmen on lawns galore! You guys can hit the road and explore different parts of your town or city.
4. Volunteer around the city.
When the holidays come around, it's a perfect opportunity to spread cheer and a helping hand around the community.
Look for volunteer activities that you both will enjoy. If you're both animal lovers, there's always a need for a helping hand at a pet shelter.
If helping kids is more your thing, try volunteering with schools at a toy drive. There are even organizations that let you deliver Christmas gifts to the kiddos' homes. I promise volunteering only makes you look 100 times more attractive to your partner.
5. Find value nights around town.
If you want to brave the cold weather, check out value nights for local ice rinks in your area.
It'll be fun to see your SO skidding on the ice. And what screams winter as loud as ice skating? If ice skating is not your thing, look for value nights for holiday festivals or tree lightings in your city!
There's bound to be an awesome holiday festival celebrating Hanukkah or Christmas, and sometimes Friday nights are free for festivals.
From keeping the cold away with cuddles to upgrading your baking skills, there are so many different ways you can stay festive in a relationship this time of year.