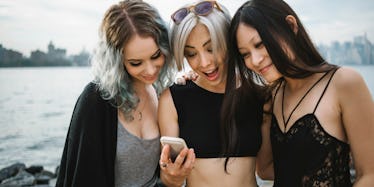 Hinge's New Instagram-Like Makeover Makes It Easier To Start Convos With Matches
Dating apps have probably made us all even more socially awkward around and exasperated by the opposite sex than we ever dreamed we could be.
But they've also provided us with a plethora of crazy first date stories, horrible sex, fleeting romances, ghosting and sometimes real, true love (shout out to my BF!).
That's why today, Hinge — the dating app you've put off downloading because you think having Tinder is indicative enough of your hopelessness — is debuting its completely new platform in order to help you bypass all the bullshit and go straight to finding love.
Hinge collected data on its own users and found that the previous version of their app wasn't really working. Only 15 percent of matches were turning into actual convos. Meanwhile, 70 percent of users were actually looking for a serious relationship.
Basically, Hinge likens the current dating app scene to the apocalypse in the video below:
As a solution to these problems, Hinge's new redesign will cater specifically to people who want to find real relationships, but aren't quite ready to pay for sites like Match or eHarmony, or revert back to old, free sites like OKCupid.
It'll cost you $7.00/mo, which sucks, but that's totally worth it to find a real relationship. Hinge's CEO Justin McLeod actually showed me the redesign of the app, so I saw it firsthand. And as someone who's used Hinge in the past, I can tell you this new version is really going to change things.
Your profile is sort of like Instagram-meets-OKCupid — you can upload photos and answer personal questions (such as what your favorite music is, or what you like to do on a day off), and all of the info appears on your scrollable profile page.
Potential matches can interact with your photos and interests by liking them or commenting on them. You'll get a notification, and boom! You have an opening to start a conversation.
Yup, no more mass-messaging people things like, "Hey, what's up?" — an opener you know is boring, but it's all you've got when you're too detached from the situation to think of something else.
Now, a conversation about your favorite band or vacation spot will start FOR you.
Plus, just like Instagram, this new Hinge has an infinite scroll. So, if you're looking at someone's profile you don't really want to like or comment on, just keep scrolling until the next one appears.
Swiping left and right through endless faces devoid of any humanity is now a thing of the past!
Swiping left and right through endless faces devoid of any humanity is now a thing of the past!
We've all gotten really comfortable mindlessly swiping on the toilet or sneakily at work. But mindless swiping was doing jack shit to help us find love. All it did was turn dating into a literal game that you played when you were bored.
If we actually want real relationships, we can't treat the process like it's not important.
And replacing the swiping element with an interface that we're all already familiar with is a pretty solid way to change all of that.
Now, thanks to Hinge, you'll be able to reap the benefits of real, early-2000s online dating, while maintaining the DGAF attitude of a dating app. And really, what more could we want?