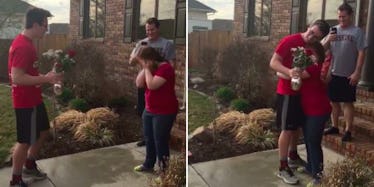 'Cheesy' Video Of Guy Asking Girl With Down Syndrome To Prom Will Melt Your Heart
Facebook
Around this time of year, loads of high school students work up the nerve to ask someone to prom, wondering things like "what if they don't say yes?" or "how should I ask?"
For one lucky guy, an incredible lady accepted his creative (albeit semi-cheesy) prom invitation.
This past Sunday, March 19, Shaedon Wedel, 18, asked his best friend's little sister, Carlie Wittman, 15, if she would be his prom date in one of the most thoughtful, punny ways I've ever seen.
Carlie LOVES Doritos (who doesn't?), and Shaedon took it upon himself to come up with a nacho-tastic prom invitation.
To do so, Shaedon created a shirt that read, "I know I'm NACHO typical Dorito but... I'm going to be CHEESY and ask: WILL YOU GO TO PROM WITH ME?"
Carlie also has Down syndrome, and Shaedon has grown up with her as much as he has grown up with his best friend, Carlie's older brother, Carson.
Shaedon told The Huffington Post, "I decided on the Doritos theme because I have known her for seven years and there has not been a day that I have not seen her eat Doritos. She absolutely loves them!"
The Facebook page Love What Matters posted a video of the adorable promposal happening and noted how Shaedon said,
Knowing her for seven years now, she's brought nothing but joy to my life. Anyone who's ever around her, she makes them laugh, she always has a smile on her face. She's amazing.
Needless to say, the video of Carlie's reaction to the cheesy invitation is priceless:
The initial idea was for Shaedon, Carson and Carlie to go to prom as a group, but plans changed when Carson got a girlfriend and decided to ask her individually.
From there, it was a no-brainer for Shaedon to ask Carlie to be his official date.
Shaedon added, "We taped it because she loves to be on the camera; we didn't expect this to go so viral."
And viral is right. The video has now gained over 137,000 likes on Facebook and over 54,000 shares. Shaedon continued, "It has been a very neat and exciting experience."
The couple is set to attend prom on April 22, and Shaedon wants to make the night as special as possible.
He explained,
She says she wants to be a princess like Cinderella and it would mean everything to make her feel that way. The Whitmans are basically my second family and have been so kind and nurturing to me. My main goal is to make Carlie's prom as special as possible.
So far, so good, Shaedon.
Citations: Teen With Down Syndrome Got Asked To Prom In The Sweetest Way (The Huffington Post)