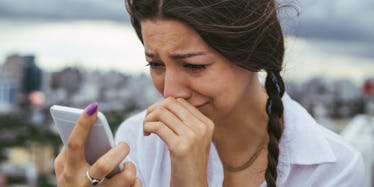 Reasons Why You Should Never Go Back To Someone Who's Hurt You
There are certain people to whom you're attracted who are just plain toxic, regardless of whether you're dating or just hooking up.
There's an insatiable irresistibility about these people, in the way that they are close enough to you just to be out of reach.
It's like you are constantly grasping for the threads of hope they dangle in front of you, whether intentional or not, but you somehow still find your fingers slipping into thin air.
You fall flat on your face, and it's not the first time you've done it, nor the last.
You love seeing this person's name light up on your phone. You would do anything to see him or her genuinely smile. You crave the way he or she looks at you when you're alone together.
But, you're looking into his or her eyes and you're not quite getting the reflection you want.
There's a disconnect, a sense of distance that tells you he or she isn't quite present with you and never will be, despite how badly you want him or her to be.
You know perfectly well what is happening, what the consequences will be and why it's bad for you.
He or she can say you're beautiful, and you want to believe it because the words reach a part of you that makes you ache in both pleasure and pain.
A part of you seeks the pain this person gives you. It's a twisted cycle of going back and forth to this person, and you can't stop yourself from returning because of all the possibilities you convince yourself await.
"Maybe, this time will be different," you tell yourself with willful naiveté. You know better, but you turn a blind eye, anyway.
The issue in being the one who always gets hurt is rationality takes the backseat in driving your decisions. You know perfectly well what is happening, what the consequences will be and why it's bad for you.
You're well aware there's a difference between someone who treats you like a priority and someone who treats you as an option.
Usually, rationality does eventually win, but often, it takes a while to get there. Your emotions trump the bald truth screaming in your face because you give in too easily to your desire to wrap your arms around his or her neck again.
I suppose this can be perceived as weak and emotionally immature, and to an extent, it is.
We're told to never settle for less than we deserve. So, why do we do it? Does giving in to temptation and giving up some of our power to someone who doesn't regard us as high as we deserve make us lesser?
Perhaps, it just makes us all the more human to be foolish, hopeful, vulnerable and stubborn, all at once.
We purposely won't listen to our friends' advice, fully aware of the damages that will arrive after that long-anticipated, most likely drunken, kiss. All we want is for them to want us, too.
Getting hurt is one of the most intimate experiences you can have with someone else. It happens to even the strongest among us because we all have feelings and memories of which we are reluctant to let go.
But, I realize that while you may not be able to control how you feel, you do have control over how you allow yourself to be treated.
As much as we'd like to believe people would change for us, they, realistically, never will. It's important we recognize and accept that.
There's only so much you can tolerate, and part of the solution is figuring out your limits and what you ultimately want for yourself. It's not easy when you find yourself slipping back into old, familiar patterns. But, in the end, your happiness is in your hands.
Some people, no matter how much we are drawn to them, are not worth that sacrifice.