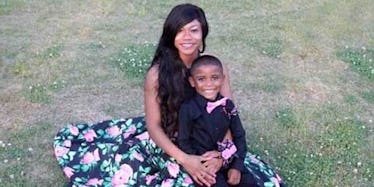 This Girl's 5-Year-Old Cousin Was Her Prom Date After Her BF Bailed On Her
Haleigh Wiley
When I was in high school, my prom dates were eight of my close friends... and their dates. Yes, I was the 17th wheel at prom.
But if this 17-year-old girl's younger cousin had been around at my prom, maybe I could've had a date.
Haleigh Wiley, a junior high school student in Arkansas, was left in a bit of a rut once her prom came around.
Though she was going to go with her boyfriend (as one does), they got in a fight literally the day before prom (as couples do).
Left without a date, Haleigh fortunately didn't have to resort to being a 17th wheel (LUCKY). It was then that Haleigh's 5-year-old cousin Bentley stepped in.
Bentley saved prom for everyone (yes, everyone, I don't make the rules) by sweetly offering to take Haleigh to prom himself, and let me tell you: Personally, I think that's best case scenario for Haleigh.
JUST LOOK HOW HANDSOME BENTLEY IS IN THAT PICTURE!
Once he found out his older cousin didn't have a date to prom, Bentley would not have it. He said, "I will take you to prom, I can do it, I'm a big boy!"
AND HE DEFINITELY DID IT, YOU GUYS. He even had a pink bowtie and boutonniere to match Haleigh's outfit.
Haleigh told DailyMail.com, "I thought it was so sweet."
While Haleigh was initially worried all of the prom festivities would be way too much for Bentley to handle, she quickly realized there's nothing to worry about when Bentley's around.
He's a big boy, Haleigh!! He said he can do this!!!
She continued, "I thought he would be very nervous. In one of the pictures that was took [sic] I was looking down at him and I was telling him to smile, but he was already smiling."
And as expected, once they were actually at prom together, Bentley stole everyone's hearts... even mine, and I wasn't even there. Bentley's impact, everyone.
If you're wondering what happens next between Haleigh and her actual boyfriend, don't hold your breath.
"We're okay. We're not back together. He is kinda mad at me because he says I threw him under the bus," said Haleigh.
OH, DAMN. SOUNDS LIKE SOMEONE'S JEALOUS.
It's OK, Haleigh. Who needs a boyfriend when you have a Bentley?
Citations: Boy, five, stands in as his cousin's high school prom date after her teenage boyfriend let her down (DailyMail.com)