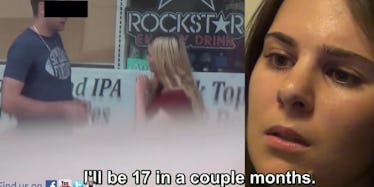 Girl Tests BF With Prank Using Pregnant Underage Teen That Goes Horribly Wrong
YouTube
I said it when a girlfriend tested her plumber boyfriend, I said it when a girlfriend tested her boyfriend with a Kim Kardashian look-alike (whom he later had sex with):
Entrapping your significant other is a horrible idea, but at the same time, it's also very entertaining (for everyone except the participants).
Take this "World of Warcraft" gamer Vanessa who tried to catch her boyfriend two-timing her with a (fake) pregnant teen (who was also a plant).
After the preggo teen suggested Vanessa's boyfriend and her spend some time together later, he was quick to guess this was all a set-up.
He was thiiiis close to realizing the horrible truth about this sting-like operation.
This girl asks outright if he cares whether or not she's pregnant before the two have a sweet, second trimester sex-a-thon.
Insert water breaking joke here. (OK, fine, fine... I'll go.)
Pop quiz! Try to finish this upcoming sentence. "The worst part of being pregnant..."
Well, that certainly took a turn.
So, does this guy have a problem with banging a person in a location of the body mere inches away from a small newborn-to-be?
Nope!
Get out the stirrups and forceps! THIS DUDE IS DOWN TO CLOWN.
If he had his way, he'd be practicing some Lamaze breathing techniques... in the boudoir. PUSH!
Honestly, there were at least some educational moments from this video.
Not getting pregnant twice is like the concept of double jeopardy.
The worst part? HE DOESN'T CARE WHEN SHE SAYS SHE'S ONLY 16 FUCKING YEARS OLD.
*Cough, statutory rape, cough* CAN SOMEONE CALL CHRIS HANSON? I KNOW HE ISN'T BUSY.
Ugh, this guy is so gross. Just look at the way he puts his arm around her shoulders.
Honestly, I hope Vanessa drops him like it's hot. Seriously, this guy is bad news.