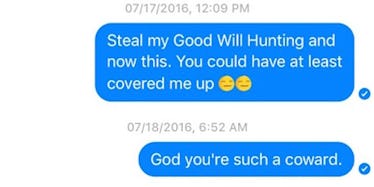 This Girl Was Ghosted Twice By A Guy Who Vanished In The Middle Of The Night
Anonymous
Ah, ghosting. It's the dating phenomenon that happens when people are too cowardly to actually end things with the people they've been seeing, so they choose to just… disappear instead.
Ghosters are idiots. But if you've ever been ghosted, know that you're not alone.
In this weekly column, I share a tale of a time a reader was ghosted (with accompanying screenshots) so you can see the last text that was sent or words that were uttered before someone decided to disappear forever. I present to you: Boom, Ghosted.
Have your own ghosting story you'd like to submit? Send over to boomghosted@elitedaily.com
This week we have Angela* who was ghosted not once, but TWICE by a guy her friend set her up with:
I got ghosted by the same guy TWICE. A mutual friend set us up, thinking we would be a good match. It took us about a month before we finally went on a first date, but that entire month beforehand, we were texting nonstop. I even texted him every single day of my vacation, pissing off my travel mates in the process. Before I even met him, I was head over heels. He was insanely witty and made me laugh at just about everything. Things got better when we finally met. We had a four-hour date that was constant laughter and talking. To boot, he looked like my celebrity crush, Jake Gyllenhaal.
After date one, we went on a few more, but we never went past kissing. I liked him a crazy amount — more than I'd ever liked anyone. I brought him out with friends one night, and while it was kind of strange night (my friend got pretty drunk), we had an awesome time laughing nonstop and constantly kissing each other at the bar. My friends thought we were already a couple. That night, he slept over, but I was still hesitant to sleep with him. The next morning, I dropped him off at home and that was the last I heard from him. I texted him a few times with no response and finally sent him this FB message because I was so hurt:
He never responded. Fast forward one-and-a-half years later, and I go to a party to meet a friend. Lo and behold, there is my ghoster. I was embarrassed and tried to avoid eye contact with him, talking to other guys at the party instead.
I was alone for one moment, making myself a drink, and he WALKED UP TO ME. I was being insanely standoffish, but he pressed on. I got a little too drunk at the party, and we actually ended up having a really good time together. He was making me laugh just like before, and I started to think that maybe I had done something wrong or it was just a misunderstanding. I brought him back to my place later on in the night. We were making out, and things were getting hot and heavy. I broke away and asked why he stopped talking to me and explained how shitty it made me feel. He couldn't have been more apologetic, saying we had something so good and he messed it up. He also said I was beautiful, and he thought we could have been something, too.
That night, he also confessed that his grandmother had passed away when we were seeing each other, and he was just so messed up from it that he shut down. I knew he was really close with his grandma, so I gave him the benefit of the doubt. I still had my guard up, though, and refused to sleep with him that night. We fell asleep cuddling. But the next morning, I woke up to see he had vanished in the middle of the night, leaving my sliding glass door (that leads outside) slightly ajar. I was FUMING. I couldn't believe I let him in again. I messaged him on FB again after that because I was honestly so in shock that he was that much of a coward.
And guess what? He never responded.
I don't understand.
WHY GO BACK TO HER?
WHY GO OUT OF YOUR WAY TO TALK TO HER AT THE PARTY YOU BOTH HAPPENED TO BE AT?
WHY NOT DO HER A SOLID AND JUST LEAVE IF YOU KNEW YOU WERE GOING TO GHOST HER ALL OVER AGAIN?
We've featured stories about people who were ghosted twice by the same dude in this column before, but the whole thing still really confuses me... especially in this case because they were introduced by a mutual friend. Now, you're making your friend look bad!
Also, if you have a mutual friend, odds are, you're going to run into each other at some point. So why in the world would you opt to set yourself up for such awkwardness?? It just doesn't add up!
Have you ever had an experience similar to this? Do you see where this guy was coming from? Have you been ghosted twice by someone?
Comment your thoughts below!
Again, if you have your own submission for "Boom, Ghosted" feel free to email it over to boomghosted@elitedaily.com.
*Names have been changed.