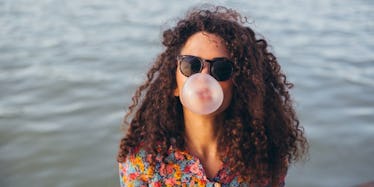 How My Ex Cheating On Me Made Me More Confident Than I Ever Was Before
Cheating: the cardinal relationship sin. It's the most selfish act a person can do in a relationship because it has a power punch that affects both people.
It takes a long time after the demise of a relationship to be able to reflect on an incident like cheating and see any positive side to it.
For me, I'd never been cheated on until I was in my first serious relationship in college, and boy, did my ex do work on me. He cheated on me with my sorority sister and pretty much ran through every girl in Greek life in the two years we were dating.
Were there telltale signs he was a cheater? Sure. Did my 20-year-old self want to hear them? No.
Between the girls revealing details and everyone else letting things spill like a landslide, it was too much. I was left emotionally wrecked and swore off men for two years.
At 26, I can now look back on the situation and be thankful for the experience. It humbled me in many ways and taught me about who I was in that relationship and who I didn't ever want to be again.
Even before I found out about the cheating, that guy still wasn't so great. He had a pretty shady reputation that I chose to ignore because I wanted to give him the benefit of the doubt.
No, not every person is a creature of habit, and on a good day, I still argue a person can change.
But in this case, I thought because he had a bad reputation and chose to better himself with me, it made me special.
Wrong.
If anything, I was putting my own heart at risk by being with someone who was known for bulldozing through girls like it was a sport.
I had doubts and reservations going into the relationship and allowed myself to proceed anyway. If I couldn't put full trust in whom I was dating from the get-go, why was I with him?
You should never gamble with yourself in a relationship. Yes, no relationship is a sure thing, but to see a burning flame and rub your hand through it for fun is not the way to go.
Thankfully, it's a mistake I've never made again with a guy.
Learning to trust myself was such a valuable lesson that has carried me gracefully through every relationship I've had since and even in other life decisions I make.
His choice to cheat also taught me about how much confidence I lacked back then.
I chose to stay with him between the whispers and rumors because I felt no one else would want me. I felt this weird obligation to stick to this toxic choice I made out of pride and pure stubbornness. I didn't want to admit I was wrong.
I blamed myself and my lack of experience for why it didn't work. It took me a long time to come to peace with that, to look myself in the mirror and say, "Hey, he wasn't good to you, and you have to stop punishing yourself for that."
No one deserves to be cheated on, and once I regained my self-confidence, I understood it wasn't my fault.
I was worthy of being loved and cared for, and I wasn't tarnished goods. Being with a bad guy didn't mean I had to stay with him. It didn't mean I had to tear myself up over it.
Instead, it meant picking up the pieces, looking boldly in the mirror and saying, "This is his loss. It hurts, but you will try again. You will do better. You are better than this."
And thankfully, I gained confidence through my friends, family, therapy and support in rebuilding my identity and not tying it past choices.
My ex's cheating gave me a deeper understanding of myself, and while it tore me down, I built myself back up to be stronger, confident and bold.
The relationship made me realize I wasn't perfect. No matter how nice, pretty, smart, loyal or dedicated I was to a guy, if he wants to cheat, he will.
But his choice in doing so does not diminish my worth or value, and I am not a lesser girlfriend, partner or human because of it.
So I thank him for cheating because I'd go through the experience again to have the knowledge, confidence and love I have for myself today.