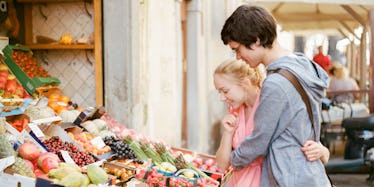 Here's Definitive Proof Our Generation Really Does Prefer Food Over Sex
Milles Studio
I've said it once, and I'll say it again: I choose food over sex.
Like, I'm sorry, but if I had to choose between non-stop, mind-blowing orgasms for the rest of my life or the best spaghetti carbonara I've ever had and (yes, and) maybe a delicious hunk of prime rib, I'M CHOOSING THE FOOD.
It's not that I don't like sex. It's just that I like food more.
And it turns out, I'm not the only one who feels that way. In fact, there are plenty of Millennials just like me who would choose food over sex.
A new study released by Havas Worldwide finds that food really might be the "new sex."
Seriously, a large number of respondents (made up of 11,976 men and women aged 18 and over) agreed that not only can food be just as pleasurable as sex, but they would also choose an excellent dinner at a restaurant over sex.
Take a look at the findings for yourself here:
That's right, ladies and gents. OVER HALF OF FEMALE RESPONDENTS AGREED THAT EATING CAN BE AS PLEASURABLE AS SEX.
I am normal. I am not a freak. I am part of the 51 percent. WE ALL JUST REALLY LOVE FOOD, YOU GUYS.
Guys still love sex a teeny tiny bit more, with slightly less than half of them (46 percent) admitting they would choose food over sex.
But, something important to take a look at here is the little yellow square at the bottom. It says "MILLENNIALS." The yellow bars in the bar graphs refer to Millennials.
And you know what? Fifty-four percent of Millennials agree that eating can be just as pleasurable as sex. Additionally, 35 percent of Millennials agreed they would choose dinner at an excellent restaurant over sex.
Yep, the majority of our generation really just loves to eat.
Citations: EATERS DIGEST (HAVAS WORLDWIDE), A Surprising Amount Of Millennials Want Dinner More Than Sex, Study Says (Huffington Post)