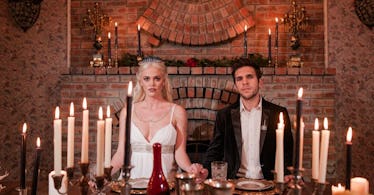 This 'Game Of Thrones' Wedding Photo Shoot Is Actually The Most Gorgeous One Yet
I hope all my "Game of Thrones" fans out there are sitting on a toilet because you're going to PEE YOURSELF after seeing this insane "Game of Thrones"-inspired photoshoot.
I mean, honestly, I don't even watch the show, but these pictures are incredible.
Photographer Katie Lee came up with the idea for a GoT-inspired shoot, but she was worried about how to balance the elegance of a classic wedding shoot with the rough, medieval "Game of Thrones" vibe:
I knew that it would be a tough style to recreate while still managing to keep it elegant enough for a wedding. Nevertheless, we took on the task to recreate the vision that I had in my head for this epic photo shoot.
I'd say she did a pretty good job of finding the balance.
Obviously, she didn't do this all on her own.
RCB Fashion helped her come up with the insane outfits for the shoot, and Smithmore Castle in North Carolina let her use their 121-acre private mountain estate in Blue Ridge Mountains for the shoot.
That awesome headpiece you see on the bride's head is thanks to a combined effort from Heather Feather's Art and Ambur Rose Designs.
She even found model Max Dinatele his very own dire wolf for the shoot.
In order to have a REAL LIFE "Game of Thrones" wedding, Katie Lee obviously had to find a dire wolf to be part of the shoot.
So fortunately, Full Moon Fam Wolfdog Sanctuary, a not-for-profit sanctuary for abused wolfdogs, provided that cute, not-so-little pup named "River the Ambassadog."
Celestial Cakery also made that cake in the background to look like dragon scales on the bottom layer and to resemble Mother of Dragons Daenarys' style on the top two layers.
I'm telling you guys, NO detail was forgotten here.
Obviously, Sansa Stark also got to have her moment with the pup as well.
Model Courtney Edelman played the role of Sansa, and even though I don't watch the show and, therefore, have no idea who she is, she SLAYED the part based on my extensive googling.
Model Austen Mauney legit looks like Daenerys Targaryen's doppelganger.
Mirror Bomb Studio and makeup artist Lauren Cirillo came together to transform the models' hair and makeup to make them look exactly like the GoT characters they were portraying.
They even made old-time-y wedding invitations.
Yes, the photographer legit commissioned a professional calligrapher (apparently, that's actually a thing) to make the mock-up invitations pictured above.
Then, the bride obviously had to rock some swagged-out designer kicks.
Daenerys doesn't seem like the kind of chick to be chilling in an old pair of Converse on her wedding day.
Obviously, Katie Lee, along with event planners Something Perfect and Events by Elizabeth Ashley, had to set her up with some fly Badgley Mischka kicks with CRYSTALS on the heels.
Now, let's talk about the ring.
You can't rock shoes like that without having an INSANE ring.
And obviously, this wedding team didn't disappoint.
Trumpet & Horn provided that massive gold diamond ring, which I now expect my future husband to get me.
Let's just get one last look at this perfection:
I KNOW they're all models, but I can't get over how hot this shoot is.
If you still aren't over all the insane pics, watch this video of the shoot, filmed by Dorn-Long Films.
All right, you guys, time for me to binge-watch all of "Game of Thrones."
And I'll have to do it quickly, as the final season premieres this July.
Citations: This 'Game Of Thrones' Wedding Shoot Even Had A Real-Life Dire Wolf (The Huffington Post), This Game Of Thrones Wedding Is SO Epic (Refinery29)