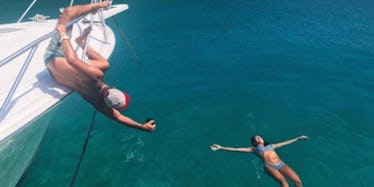 This Guy Will Literally Do Anything To Get The Perfect Instagram Pic For His GF
Instagram/@gabitomartinez93
Paola Pentón González, 25, and her 24-year-old boyfriend, Gabriel Martinez Rivera, are a pretty freaking hot couple who live in Puerto Rico. Not only is this couple is super hot and in love, they get to take cool trips to awesome places, like the British Virgin Islands, where they can take sweet pics like this:
As if they didn't already have it all, the couple has recently gone viral. Why, you ask? Well, because Gabriel Martinez Rivera takes Instagram pics for his girlfriend in ways that no other man would dare.
You see, when it comes to taking pictures of his bae, this dude really goes the extra mile. Pentón told BuzzFeed of her boyfriend, "He's no photographer, but he takes great pictures."
She continued, "He's always doing everything he can to get a good shot." Just how far is this dude willing to go, exactly?
Well, during their annual trip to the British Virgin Islands for a big "Christmas in July" party they like to hit up, Martinez decided to share a picture of himself really going that extra mile to get a good pic of his girlfriend.
Yes, that is him literally hanging off the side of a yacht with his leg wrapped around the railing and his arm extended overboard just to get his girl the best shot possible.
And I mean, as you can imagine, the photo turned out great:
His behind-the-scenes shot caught the attention of Twitter user @_KingNeek, who decided to share the photos on her account, where they have since gone viral.
She joked to BuzzFeed, "When I zoomed in on homeboy's legs I started dying 'cause that's real dedication to make sure your girl has a great picture, and we all need someone like that in our lives."
People obviously loved the post and have since dubbed the couple #RelationshipGoals.
Pentón is appreciative of all of the effort her bae puts into making sure she gets the best Insta shot. "If it wasn't for him, I wouldn't have all these great Instagram pictures," she said.
And the girl has some pretty freaking smoking pics to thank her man for, like this one:
Which came as a result of this:
Everyone in their circle is happy for Martinez, whom they call "Gabito," and his newfound fame. "All of our friends are like, 'It was time Gabito's fame came,'" Pentón said.
Man, if these two are not millennial relationship goals, then somebody tell me who is?
Check out the "Best of Elite Daily" stream in the Bustle App for more stories just like this!