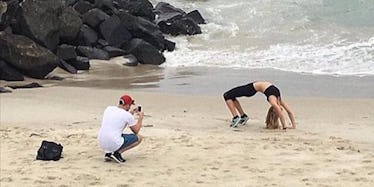 'Boyfriends Of Instagram' Shows How Far Bae Goes To Help Your Social Media Game
We've all heard the saying behind "Behind every great woman is a great man."
But when it comes to the women who flex some seriously strong Instagram game, this saying goes more along the lines of, "Behind every great Instagram is a boyfriend who's willing to stand on the edge of a cliff and take 400 photos of his girlfriend doing the same damn poses over and over."
Yep, every girl knows capturing the perfect candid Instagram photo isn't always easy.
This is exactly why most ladies, including myself, recruit (or force) our boyfriends to help us out and take on the role as our personal photographers.
If I had a dollar for every time I asked my boyfriend to take a photo of me, then spent the next 20 minutes saying "Just one more, please?" as I assumed 10 million different poses, I'd probably have enough money to hire a professional photographer.
Yeah, I don't know how he puts up with me, either.
If you've ever been curious about just how far some boyfriends will go in order to get the perfect shot for their beautiful girlfriends, you're in luck.
Someone created Facebook page called "Boyfriends of Instagram" that reveals the truth behind those perfect Instagram pictures by showing you all of the ridiculous things that boyfriends do on the other side of the lens.
The eye-opening account features all sorts of hilarious images showing faithful boyfriends crouching, climbing on things and even lying down on the dirty ground to find their boo's best angles.
"Boyfriends of Instagram" features photos of the world's best boyfriends doing everything from squatting down to snap breathtaking bikini pics...
And laying upside down in the sand to achieve the perfect angle of their bae...
To men who are willing to get a sunburn in order to take 30,000 frames of their girlfriends doing yoga on the beach...
Hero boyfriends who are always up for the challenge of turning their GFs into real-life sandcastles before snapping away...
...and guys who aim to make their girlfriends feel like true Instagram stars, no matter how many times they have to take the same damn photo.
Let's not forget the faithful fellas who are always willing to give a hand with those adorable "Follow Me" photos...
The boyfriends who who go the extra mile by patiently snapping fitspo photos as women run around like idiots...
The multitasking men who never hesitate to take a photo while holding a purse for their GF...
The boyfriends who never complain about getting down on their hands and knees in order to take a photo while their girlfriends pretend they're not there...
...or the brave boyfriends who risk their lives (and their cell phones) to snap photo from a rock jetty.
Every girlfriend-appointed photographer knows sometimes sacrifices have to be made in order to get the right angle of her sexy new shoes....
No pile of leaves is safe from an impromptu fall photoshoot...
And sometimes guys need to balance on the edge of a hot tub to achieve Instagram greatness.
Citations: Hello from the other side! Boyfriends of Instagram page shares photos of men 'forced' to shoot the PERFECT social media snap of their girlfriends (Daily Mail)