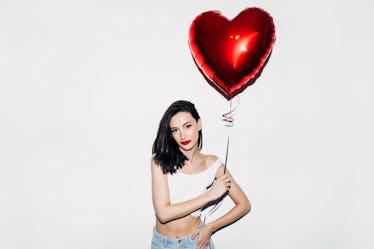 30 Flirty Texts To Send Your Crush On Valentine's Day
Ready to shoot your shot?
If you're single with a taste for romance, you've probably dreamed up the perfect Valentine's Day — complete with a smashing red outfit, delicious food, the perfect soundtrack, and the sex position you'd like your Valentine's Day evening to end in. One potential hiccup could be that you don't have anyone lined up to help you live out this V-Day fantasy. However, if you do have a hottie in mind, you're as good as gold — as long as you send them the right text. If you're in need of flirty texts to send your crush on Valentine's Day this year, then I've got some suggestions that will get the job done.
As Fran Greene, licensed clinical social worker and author of The Secret Rules of Flirting, previously told Elite Daily, flirty texts are the perfect low-pressure way to shoot your shot. "Texting allows you to craft your best flirt without distractions and without the anticipation of seeing an instantaneous reaction," she explained. "You can add, delete, and even get a friend's opinion if you need another set of eyes — all before you hit send."
Here's a little inspo for the digital candy-gram you can send your crush on Valentine's Day.
This article was originally published on