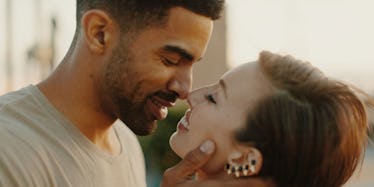 How To Have The Best New Year's Eve Ever If You're In A New Relationship
Sidney Morgan
If there's anything I've learned since being in a relationship, it's that everything that seemed to be a drag when I was single is no longer painfully annoying.
Actually, it's quite enjoyable.
New Year's Eve is a holiday when, if you're single, only one of a few things can happen.
You either dress to the nines in the hope that when the clock strikes midnight, you'll have found someone to kiss, or you dress as you normally would and get drunk and crunk AF because you don't have anybody special.
But when you're in a relationship, New Year's Eve takes on a whole new meaning.
I am proud and fortunate to say that this New Year's Eve, I will be ringing in 2017 with my special lady.
So, how do you make your first New Year's with your SO as special and unique?
1. Make it a party for two.
So often we will find ourselves wanting to buy tickets to the hottest NYE party in town, but is it really special spending hundreds of dollars to ring in your first New Year's with a load of people?
Nope!
Buy a nice bottle of wine, or if you're feeling a tad fancy, get some bubbly, fancy cheese and party hats and ring in the New Year from the comfort of your home.
Dress up or down, and ring in your first New Year's together.
You only get one first, so why not make it a memorable one?
2. Homebody it up.
There are those types of friends who got their NYE tickets in November, and then there are those who wait to the very last minute to see what everyone else is doing.
So, why not get a group of friends together and throw your own intimate NYE party?
Chances are, the friends who didn't buy their NYE tickets in November are just like you: fellow couples who aren't that into the scene, but still want to do something.
By offering up this homebody NYE party, everyone wins.
You save money, and you get to ring in the new year in great company.
3. Travel.
Cold weather is always a good excuse for travel, and typically around Christmas and NYE, there are some great getaway deals.
Traveling to another city, either via plane or car, to ring in the new year is not only memorable, but also unique.
Book an Airbnb, bed and breakfast or hotel for the night or two and enjoy ringing the new year on an adventure because we all know being in a relationship is truly an adventure.
For me, traveling with my fiancée is always an adventure, whether it's an hour away or 10. I find that not only is it a great relationship test, but it also brings us closer.
4. Make a to-do list.
No, I don't mean a to-do list as in groceries, laundry or even a New Year's resolution to lose weight and eat healthy.
I mean, make a list of things you'd like to do in the new year.
Whether it's to check out that new restaurant or to take a cooking class together, making a list of things you'd like to do together not only shows your seriousness and investment in the relationship, but it also shows great maturity.
Whether you chose to do the homebody approach this NYE or to go for a stroll in your city while patiently waiting for your midnight kiss, remember NYE with your partner will be special no matter what you chose to do.
And that's because you're with who you want to be.
Sappy and clichéd I know, but I guess that's just what the holidays bring out in all of us: that clichéd romantic.