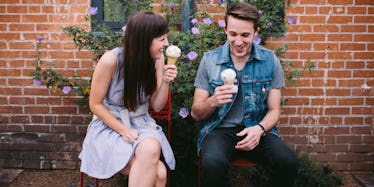 7 First Date Tips For Men That Will Help Land Them A Second
Dating is hard.
Meeting someone you barely know can be awkward or even frightening, and trying to form a connection when you hardly know much about him or her can be a challenge.
It's like you're interviewing for a job, and the employer is hiring only one candidate.
The candidate's credentials have to not only fit the employer's job description, but they also have to match the employer's personality, values and interests.
In fact, the candidate also has to have chemistry with this particular employer.
If you think job interviews are tricky, dating is much trickier.
Especially with the recent influx of dating apps, dating has become more frequent among Millennials.
Finding dates is now easier, and thus, dating has become a more transactional experience.
If you don't hit it off on the first date, your date will probably move on and find someone else.
Because the option pool and ease of finding a date have increased, the bar has been raised.
But don't worry, boys.
Here are seven ways to make a girl like you on the first date:
1. Do something fun.
Everyone goes to bars and restaurants for the first few dates.
Switch it up and show her you're not like every other guy.
Go for a walk in the park, go to an art museum or explore a new part of the city.
Walking produces endorphins, which will make you both feel more comfortable.
You will therefore have an easier time connecting.
Conversations will feel more natural when you're both walking underneath a canopy of trees, rather than staring at each other from across a table.
Plus, doing something unique is more memorable.
2. Smile.
Exuding a positive attitude will make other people like you.
In fact, being in a good mood is contagious.
If you remember to smile and laugh, your conversations will be way more upbeat.
This will make the date feel more light-hearted.
Don't be too serious on the first couple of dates.
Keep the dialogue and mood light and cheerful.
3. Ask questions.
Everyone likes to talk about him or herself, and this includes your date.
Ask her questions about her family, work or passions.
Get her talking about the things she cares about, and take an interest in what she says.
Getting someone to open up and tell you about him- or herself is one of the most important aspects of forming a connection.
4. Listen.
Even more important than asking questions is listening to the answers.
It might sound simple, but many people have a hard time with this.
When she is talking, close your mouth and listen to what she's saying.
Listening is a whole body experience.
Don't text or look away. Make eye contact, and nod if you need to.
Listening shows people we care and are interested in what they have to say.
5. Find common interests.
Finding similarities is a great way to dive into a good conversation.
Find out if you both follow the same sports teams, read the same books or share the same political views.
When you find a commonality, make that the focus of your conversation.
It will be an organic way to build rapport.
6. Share your values.
Open up to your date.
Showing vulnerability will make her more comfortable around you, and it will invite her to let down her guard as well.
Honesty and transparency are very attractive, so don't be shy to tell her your opinions and views.
7. Don't have sex.
Even if you both want to, refrain from the bedroom.
End the date with a hug.
Doing much more will jeopardize your feelings for each other in the days after the date.